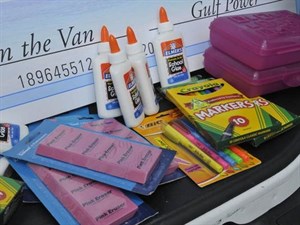 From June 21 to Aug. 5, $58,295 in school supplies was collected and distributed to 55 area schools as part of this year's Cram the Van school supply drive.
More than 20,000 students on free and reduce lunches will be provided supplies by their teachers.
"It was a privilege to be part of such a large communitywide effort, and to be able to bear witness to the schools' gratitude," said Lyndi Smith Warner, community engagement director. "Many schools mentioned how much their students needed supplies and how thankful they were for the efforts of Cram the Van."
United Way of Escambia County, in partnership with WEAR ABC 3, Sandy Sansing Dealerships and Papa Johns Pizza, distributed the supplies to area schools based on the number of students on free and reduced lunch.
About 182 volunteers donated more than 800 hours to collect supplies at all day Cram-A-Thons and then organize and distribute those supplies to schools.
Supporting businesses include, Northwest Florida Paralegal Association, Covenant Hospice, Central Credit Union, Azalea Trace, Pensacola State College, Anthem Crossfit, Mary Kay, Gulf Power Company, Rodney Rich & Co and Pensacola Legal Specialists Association. Financial and large supply gifts were provided by Beach Community Bank, Beulah Volunteer Firefighters, EmCare, Auburn Club and Walgreens, International Paper, Escambia County Public Schools Foundation, Two Men and a Truck and Wal-Mart Stores.
http://www.pnj.com/story/news/education/2014/08/30/cram-van-success/14874917/