Over the spring and summer, in the height of the COVID-19 pandemic, 35 residents from the Chesapeake Region participated in a four-week memoir-writing workshop.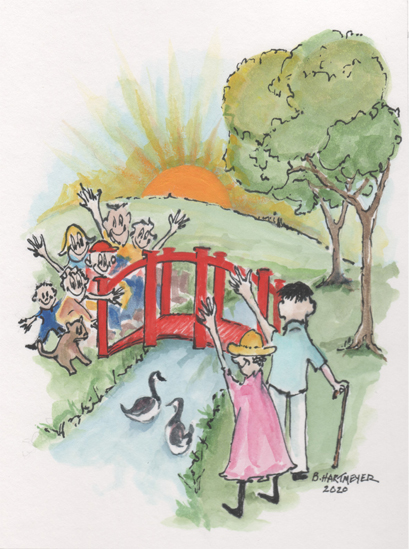 "We're living in historic times," said Bill Tamulonis, Managing Director of the Acts Center for Applied Research, who conducted the workshop. "I wanted to encourage residents to write down all the small moments and life lessons learned from living through a pandemic. I thought writing could help them as they work through it, and I believe their families and friends will appreciate their perspectives."
The workshop was conducted virtually using Microsoft Teams, and included writing tips and sharing writing excerpts.
"I didn't know much about creative writing, nor did I like the thought of ever doing it, but the workshop changed my perspective," said Carol Decker of Buckingham's Choice. "I also enjoyed talking with others in the communities, especially during the time of sheltering-in-place."
"It was enlightening and a good challenge," said Jackie Dianich of Bayleigh Chase. 
Seventeen residents submitted original writings or artwork for publication in a book titled, COVID-19 and Me: Memoirs of a Pandemic, which was released in October.
"The stories run the gamut of experiences and emotions," said Tamulonis. "Some are humorous, some are tear-jerkers. Some recount times of frustration, others describe acts of loving-kindness. Taken together, the memoirs portray the resilience, optimism, faith, and dedication of Acts residents—and Acts staff."   
Copies of COVID-19 and Me: Memoirs of a Pandemic are available at the Chesapeake Region communities. Anyone may also view the electronic version here.