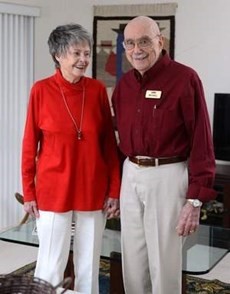 When Hank and Boots Mitchell said 'till death do we part, they weren't kidding.
In January, the valentines celebrated their 70th anniversary.
"70 years! My, that's a long time," said Boots Mitchell, 89, sitting in the living room of the couple's Azalea Trace home.
Then, she teased her 91-year-old husband.
"Too long."
"What's that?" Hank Mitchell asked.
See, he has trouble hearing. Her eyesight isn't too good.
"So we make a perfect pair," Boots said. "But we always have."
Hank Mitchell was an Army reserve officer in Miami during World War II. Boots is a Miami native, and the two found themselves at a dance set up for military personnel.
"They shipped in some pretty girls," Hank Mitchell said. "She was the prettiest. She still is."
But there was one problem. She had a date.
"He was drunk," Hank said.
"Not that drunk," Boots said.
Still, Hank asked the man if he would mind if he danced with his date. He did, and that was that.
"He was so handsome," Boots said. "And we've been together ever since."
The couple married on Jan. 20, 1944, in New Orleans. They have a daughter, but no grandchildren.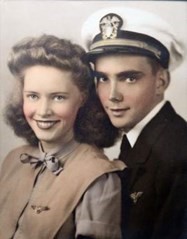 "There's been ups and downs, just like with any couple," Boots said. "But fortunately, there's been more ups than downs."
Friend Sharon Muncie said the couple still seems madly in love.
"They truly are mated," Muncie said. "They're so sweet to see together."
The couple still walk hand-in-hand through the corridors of Azalea Trace. They both tease that it's so they won't hit each other.
Do they have any advice for young married couples on this Valentine's Day.
Again, a joke from Boots.
"Maybe they have advice for us."
The couple has no real plans for Valentine's Day.
"We'll just spend the day together," she said. "Just like we always do."
Then, Boots returned to an earlier question.
"What I would tell young couples is to work at it," she said. "Anything worthwhile, you have to work for."
http://www.pnj.com/article/20140214/NEWS01/302140022/?gcheck=1&nclick_check=1