Dot Emer, a resident of St. Andrews Estates, celebrated her great-grandchild with a special gift that took 82 years, and a global pandemic, to come to fruition. Around 1939, when Dot was merely 8 years old, her grandmother cut squares of fabric to make a quilt for her but unfortunately died of breast cancer. Shortly before her death, she made Dot's mother promise to finish the quilt. Caring for two young children, Dot's mother tucked away the fabric squares for a "someday" that never came.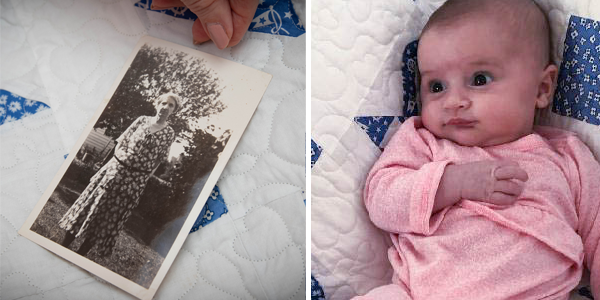 Fast-forward to March 2020, when Dot joined fellow sewists of St. Andrews Estates to make homemade masks in the early days of the Coronavirus pandemic. Dot, who used to sew children doll clothes, naturally joined the movement, pulled out her sewing machine, and helped the community make masks for residents and staff. Little did she know, other residents of the sewing group would introduce her to a new hobby: quilting. Dot, who had no experience quilting, seized the opportunity to finally honor her grandmother's wishes.
"I've been carrying those squares around from house to house, storing them under my bed, in a cedar chest, in closets," Dot said, "This year, I cleaned out the closet and saw the squares. When I found out my granddaughter Emily was expecting a baby, I thought, okay, now or never for this quilt."
In August, to celebrate her 90th birthday, Dot traveled to New Jersey to meet her newborn great-granddaughter Charlotte Harper and surprised her family with the beautiful quilt, a special heirloom spanning six generations. On a corner of the quilt carries six names - Dot's grandmother, mother, herself, her son, her granddaughter and now her great-granddaughter - along with their birth dates. 
"I never told them I was working on this because I didn't know how it was going to turn out," Dot laughed as she reflected on the experience. "Fortunately for the St. Andrews Estates sewing group here, and talented resident quilters like Jane Kimberly, I was able to make this quilt. Everyone gave me ideas to design it and make the most out of those basket squares."
"My hope is that my great-granddaughter will share it as well and pass along with the story of how it came to be made," Dot said. Her family was astonished and touched by the generous gift that brought closure to a promise made 80 years ago. "Everyone was really amazed," Dot said, "I hope it will become a family treasure, to pass along to future generations."