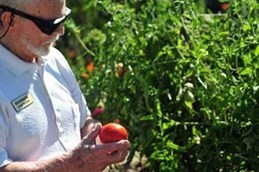 Whether it's spending time among the roses, corn or rosemary, the resident garden at Lanier Village Estates serves many purposes.
For some residents, it is a way to continue a hobby from earlier in life. For others, it's a place to make friends and meet new people with similar interests. For the Lanier Village kitchen, it's a source of fresh herbs and vegetables to use in the residents' meals every day.
No matter the purpose, residents and staff appear to share a passion for gardening and telling stories.
Patti Truslow started gardening once she retired and visits the garden a few times a week to care for flowers and tomato plants. Lanier Village residents are free to choose what they like to plant, so each season Patti has a different garden.
"I choose some old friends, and then every year I find some new stuff, too," she said.
The garden is a way for her to bring elements from her previous home to her place at Lanier Village, as do many other residents.
Joe Iannarone has been growing hybrid tea roses in the garden for nine years. He is always eager to share the blooms with neighbors, friends, family and patients in the community's hospital facility, Willowbrooke.
"I pick a few for my wife and some of my friends, and the rest end up there," he said.
Iannarone has about 13 different rose bushes and is dedicated to tending the flowers and his other plants.
"They take a lot of personal care," he said of the tea roses. "If you give them a little TLC and spend a little time with them, they'll reward you with some beautiful blooms."
In addition to the roses, Iannarone grows tomatoes, lettuce and other vegetables that he shares. He learned how to grow the different varieties of plants from his youth.
"I've been gardening my whole life," he said. "I grew up on a farm."
When the group cleans out the garden in fall to prepare for the cold weather, Iannarone plants tulip bulbs that will flourish in spring.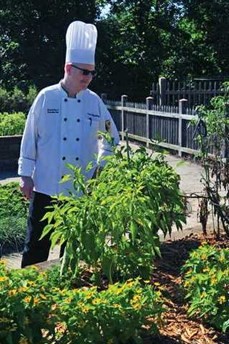 "When they come up in spring, the whole thing is just covered in tulips," he said. "When the tulips are done around April, I plant lettuce and tomatoes."
Whatever vegetables are not dispersed among friends or taken home for a fresh tomato sandwich usually go to the kitchen staff to use in meals.
While fresh herbs are the main plants given to the chefs, gardeners such as Iannarone, Dan Beshara and George Eastburn send cherry tomatoes, cucumbers, peppers and more to add freshness to their meals.
"Whatever they bring in to us, we will use in some way," head chef Tony
DeNauro said. "We can't really spice up the food too much, but we can add some so that there's flavor but it's not on fire."
Along with vegetables, the garden produces a variety of herbs for the kitchen, including a special herb garden Beshara tends.
"I got started on it mostly by accident," he said. "When I came, I had a little spot of my own to grow in and Jan (Tuttle) said they needed somebody to look after the herb garden and I decided to give it a try."
The kitchen staff provided Beshara with the herbs they wanted, and he planted them. Now he cares for them multiple times each week.
"I trim them about once a week, and they grow back," he said. "The more you trim them, the more they will grow back."
The Lanier Village chefs use everything from parsley for garnish to lemon mint, rosemary and basil to flavor dishes.
"We have wonderful fresh herb flavors in our meals," said Tuttle, who organized the resident garden.