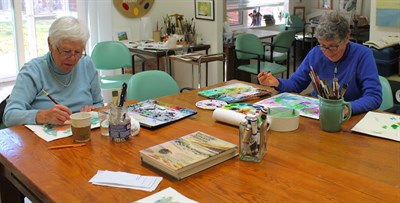 As part of the old saying goes, "second is the best."
According to a recent study done by SmartAsset, a venture-backed financial technology company based in New York, Chestertown has been ranked second in the top 10 places in Maryland to retire to, right behind Easton.
In a telephone interview March 24, A.J. Smith, managing editor of SmartAsset, said the findings were part of a nationwide study, done with data the company received from its various clients.
"Since we had the data, we decided to do a study all over the nation and find out what cities or towns people would most like to retire to," she said. "The results were very interesting."
Smith said the results were based on several factors: tax burden of income and sales tax; medical care and the number of doctors' offices in the area and recreation and social life, such as recreation centers and the percentage of seniors in the area.
She said that nationwide, Chestertown was ranked 535 out of more than 4,000 towns or cities. Kent County ranked 334 out of more than 3,000 counties.
"Chestertown scored well on all fronts," Smith said.
But what else makes the town so desirable to those seniors or retirees all across the U.S., who have left their careers and want to settle down?
During a Monday, March 23 interview, Garret Falcone, executive director of Heron Point, said some elements include Chestertown's historic background and its location on Maryland's Eastern Shore, plus the Chester River, Washington College and Shore Medical Center at Chestertown.
"You have a lot of seniors, but the element of youth provides a great mix for the town," he said. He also said that 75 percent of Heron Point residents come from as far as 50 miles away to Chestertown.
Falcone said Heron Point, with 300 residents all either 62 years old or above, currently is at 100 percent occupancy. He attributes that to not only Heron Point's many clubs, but also its relationship with the town.
"Most people who move in here say they should have moved in sooner and that they have never been busier," he said. "I think Chestertown is a fabulous town. It's like an oasis in the middle of farmland."
Barrie Meima of Annapolis, president of Heron Point's resident council, said Chestertown was often a "Saturday drive". When she and her husband moved to Heron Point, they decided to make the town their own.
"I like the smallness of the town," she said. "I also like how people live in such historic buildings. Chestertown is not a museum, it's a community. Real people live here and be prepared to speak to everybody you pass on the sidewalk."
First District Councilwoman and Heron Point resident Liz Gross said among Chestertown's other appealing factors are its role as a nexus to Baltimore, Washington and Philadelphia, and how there is expert medical care close by.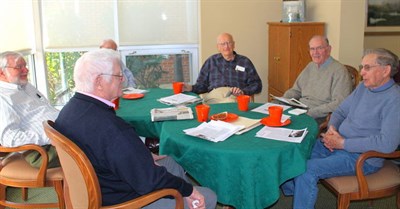 "I certainly encourage everyone to visit Chestertown all the time," she said.
Resident Kent Kerbel said he and his wife came from Santa Fe, N.M., and wanting to reside in a continuing care retirement community. They chose Heron Point.
"Basically, it's a nice, quiet place to live and Heron Point is a friendly community," he said. "We love Chestertown because it fits all of our needs. It offers so much more than people realize."
All three said there isn't a lack of things to do within Chestertown, such as the various art leagues and organizations.
In a telephone interview March 24, Muriel Cole, a member of the Kent County Committee on Aging, said Chestertown also offers HomePorts, an in-home care service that allows seniors to remain in their homes and live independently.
She said there is no age discrimination, with various discounts available for the elderly throughout the shops. She said awareness for the elderly is present in the local government.
Cole also said the events put on by the town such as the Tea Party Festival and Downrigging Weekend offer stimulation.
"It's an extremely welcoming place," Cole said. "I like to think of it as a place for all ages."
Mayor Chris Cerino, speaking March 24, said he thinks the town is very attractive to retirees because it's not as bustling as a city.
"It's a slower pace of life and our unique river location helps that," Cerino said. "Both the college and hospital add flavor, and it's very pedestrian friendly."
Those factors and more seem to be working in the town's favor. According to Smith, the percentage of seniors in Chestertown is 24.7 percent. SmartAsset's study found that the national percentage is 13.2.