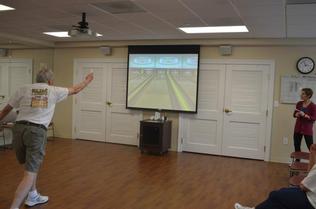 Cascades of cheers and claps could be heard long before entering the room where Matthews Glen' annual senior Wii bowling competition was held last week.
Excited residents put on their best bowling attire as they competed to raise money to fund research of Alzheimer's disease and dementia.
One dollar was donated by Matthews Glen for every strike by participants. Funds also were raised through staff sponsoring seniors.
Some staff members even bowled during their lunch breaks.
The staff and seniors raised $515 through 144 strikes, topping last years total of $417 raised through 132 strikes.
The competition was born last year, when the National Senior League caught the attention of Matthews Glen's fitness director, Patty Tatem. The league is a nonprofit intended to keep residents of senior and retirement centers active and having fun.
Tatem said participating in the league's national virtual bowling week was a good idea because Plantation's residents played the game regularly.
"We did a Wii bowling battle of the sexes competition that was a huge hit," Tatem said. "Seniors do some really cool things, especially with new technology."
Residents are really savvy with the new technology, Tatem said. "They tell me, 'Oh yeah, I played that with my grandkids.' "
Plantation resident Dot Lybrand, who bowls weekly, said the meetings allow residents to get closer and stay active.
"I've made many, many friends and we've all had so much fun," she said.
http://www.charlotteobserver.com/2014/07/23/5051926/charlotte-seniors-participate.html#.U9Ens7Ga-Ig