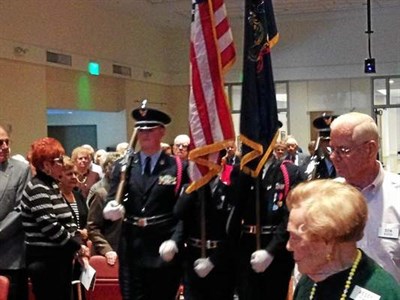 Residents and staff at Brittany Pointe Estates ACTS retirement community paused to pay tribute to our nation's veterans during a special ceremony at the facility's auditorium Sunday.
The ninth annual Veterans Day Observance was held Nov. 9 at 2 p.m. to honor and thank all BPE residents who served in the armed forces.
The ceremony was a rousing spectacle of patriotism that began with an entrance from the North Penn High School Air Force JROTC, before barbershop quartet 'Distinction' sang "Proud to be an American" and the National Anthem. The ceremony also included a poem by Fran Glica, titled "Ordinary People," which thanked servicemen and women for their sacrifices; as well as a final role call of the names of veterans who had lost their lives.
Resident and World War II veteran Don Ziegler was this year's honoree at the ceremony.
Speaking at the event was Stephen G. Yusem, Rear Admiral United States Navy (retired), who spoke about the importance of Veterans Day observances.
"Freedom is not free," he said. "Freedom must be earned- often with tears, always with sweat and too often with blood …Today we honor and treasure the memories of those who have been lost to us in service of our country. They died too young but they were old enough to understand patriotism. And they were courageous enough to serve like so many before them in the noblest of causes- the preservation of American freedom."
After the ceremony, many in attendance commented on the importance of Veterans Day activities.
"I thought it was a beautiful ceremony," said state Rep. Kate Harper, R-61. "I got a big lump in my throat when they were talking about Don Ziegler, the honoree today and his story. So many World War II stories are like that, but they're all heroes and it was really a big honor for me to be here.
"I served just two years," said Dave Leventhal, who helped organize the event. "My thoughts are when I meet people here who have really served, they were fighter pilots in World War II, they were on the ground at the battle of the bulge, they were at all these places and saw many of their cohorts die- most of us have never experienced that. And this is just an event that reminds everybody about that."
"Patriotism is important," said Richard Izard, the event's program manager. "It's what defends this country and it protects this country and it gives us the freedoms that we have. Unlike most other countries, including other democratic countries, we're kind of the pinnacle of freedom of speech and freedom of worship, and that's because of the many veterans who fought and the many who died defending those rights. So that's why we honor them."