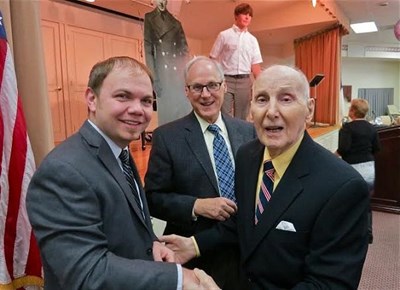 Professor Harold Hill notwithstanding, for generations of Lower Merion students there is only one real-life Music Man.
Many were among the more than 100 friends and family who turned out to help Dr. Herman Giersch celebrate his 100th birthday - and an extraordinary life - last Saturday at Granite Farms Estates retirement community in Media.
Irrepressible as ever - one admirer described him as "a one-hundred-year-long burst of energy" - it was a surprise to no one when he stepped up to conduct the singing of "Happy Birthday."
"He instilled a great passion for music," said Diane Neely, who came to the party with friends Jane Gilbert and James Hofer and several other members of the Lower Merion High School Class of 1983. The three were members of chorus in the years before Giersch retired in 1985 after a 46-year career with the Lower Merion School District.
"He's the one who inspired me," said Gilbert, of Wynnewood, who went on to an operatic career singing with the Metropolitan and Philadelphia operas and other companies for nearly 20 years.
"We're here to thank Herman for his hundred years of giving to others," said friend and former LMHS colleague Ted Goldsborough, opening a program of accolades and personal memories, interspersed, of course, with music.
That passion for music came naturally. Born on Oct. 25, 2014, into a family that had already put down strong roots in the growing village of Bryn Mawr, Giersch's father, also named Herman, and uncle, Paul, grew up playing in the Bryn Mawr Band, which the elder Herman Giersch led for several decades. He and his brother, Paul, younger by a little more than a year, attended Lower Merion schools and went on to West Chester University to become music educators.
After an initial teaching job in Delaware, Giersch returned home to teach at then Bala Cynwyd Junior High School, now Middle School, in 1937. Interrupted only by service in the Army during World War II, he led the band and orchestra there until 1965, when he began teaching at Lower Merion. The auditorium at the school was named in his honor in 1998.
Giersch also held a master's degree from Temple University and a doctorate from the Philadelphia Conservatory of Music.
Besides his teaching career, he touched lives through music in many other ways. Giersch led choirs at Holy Apostles Church in his home community of Penn Wynne, and from 1991 to 2008, until age 86, Giersch directed musicals for Narberth Community Theater. After he and his late wife, Edith, moved to Granite Farms in 1987, he directed its chorus well into his 90s.
That story was well-known to many of those who came from near and farther away to celebrate with him. But a story his nephew, Paul Giersch, told was new to most. Toward the end of World War II, Herman Giersch, who had served overseas since 1944 as leader of the division band of the 42nd Infantry Division, known as the Rainbow Division, witnessed its liberation of the concentration camp at Dachau in April 1945. His uncle would only rarely and briefly speak of it, but Paul Giersch said it had left an "indelible, transformative" impression on his uncle.
A happier story the honoree helped tell himself. At Bala Cynwyd Junior High, Giersch had had a particularly gifted student named George Scott, whom he had made captain of the band. After Scott moved on to Lower Merion High, he was injured in an accident. Giersch went to visit him one day at Bryn Mawr Hospital, where he found Scott's parents on one side of the bed and on the other Scott's sister, Edith. At 18, she was "bright, funny, gentle - and a knockout," Paul Giersch related. That's when Giersch jumped up to add, "When I saw his sister there, I kept going back to see George."
He and Edith were married in 1942, and had two sons, Brian and Davis. She later collaborated with him on songs, writing lyrics for his music. They had been married 61 years when she passed away last December.
At the party, Neely was not the only one who mentioned that a parent had also been a student of Giersch's. Neely, who said she also came from a musical family - her grandfather James Godschall had opened the first music store in Bryn Mawr - recalled that her mother, Ginny Godschall, had played the clarinet for him at Bala Cynwyd Junior High.
Andrea Clearfield, who made a presentation to Giersch on behalf of students of Lower Merion High School, came to the celebration with her father, Dr. Harris Clearfield, also of Bala Cynwyd, who had been a clarinetist and served as drum major of the junior high band. Andrea Clearfield, Giersch's chorus accompanist at Lower Merion, is a professional musician and composer. "We were so moved to be able to celebrate, as two generations whose lives were changed by Dr. Giersch," she said.
Other students went on to careers in music, while others have continued to play instruments for enjoyment or were inspired to a love of music.
"I am still playing today," said Steve "Mike" Mudrak, a 1971 LHMS grad, whose nametag proudly proclaimed him to be a French horn player. Now living in Mount Holly, N.J., Mudrak, who owns a swimming pool service company, said he had a concert at home that night with the Golden Eagle Community Band.
His friend, Abby Brodkin, said she had played in both the band and orchestra at Bala Cynwyd, before choosing orchestra at Lower Merion. "Anyone who went to Bala Cynwyd Middle School knew his name," she said. Among other accomplishments, Giersch wrote the school's alma mater.
As the afternoon went on, with an appreciative Giersch in a front-row seat, former students and associates paid tribute in the best way - with music. Barbara Humes of Narberth Community Theatre, with accompanist John Grecia, sang a medley of Broadway tunes, while former student Joan Paperman Rosenberg performed a violin solo.
But, with a piano on hand, even after the "formal" program ended, former students including Clearfield, Jamie Singer of Penn Valley, and John Burton, now living in Erie, gathered around to sing. Burton, who said he was a music teacher for 19 years, still remembers it was a red-letter day when Giersch announced chorus members going on to a district competition and his name was on the list.
At the end, Giersch thanked everyone for coming to share the day. "Thank you, everyone who was able to take part. It's unbelievable, and you are unbelievable."
And then he invited them all to join him again - "When I reach 200!"
http://www.mainlinemedianews.com/articles/2014/10/30/main_line_times/news/doc54526009628a5370160231.txt?viewmode=fullstory