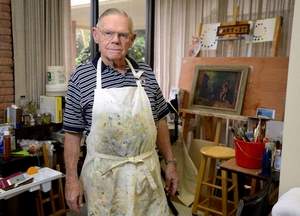 Terry Sutherland will turn 83 this year. His New Year's resolution?
Learn Intermediate Italian and finish his memoirs. Don't think the senior citizen doesn't have the willpower or perseverance to pull it off.
In 2013, the Navy veteran earned an art degree from the University of West Florida, which conveniently is right in his backyard at the Azalea Trace retirement community where he has lived with his wife, Nadine, since 2006.
It was his fifth degree, continuing a lifetime of learning and degree-seeking that began upon his fleet appointment to the U.S. Naval Academy in the late 1940s.
"It's never too late," Sutherland said from his ground-floor home at Azalea Trace as he showed off his latest paintings, including a colorful impressionist sunset. "You have to exercise the mind. There are always new challenges."
And that's Sutherland's inspirational message for the New Year - that you're never too old or young to learn something you didn't know before. In fact, Sutherland's children urged him to get a Ph.D to build on his previous degrees. Instead, he chose a field he loved but had never studied before - art.
"The world is full of educated derelicts," he said of the Ph.D suggestion. "I spent a lot of time at the house painting, so I thought, "Why not get an art degree?' "
Actually, he said, it was Nadine's idea.
"She wanted to get the old man out of the house," he said with a grin. "So I went over there and signed up. And three years later, I got my degree."
Sutherland is a California native. At the Naval Academy, he earned a bachelor's degree in marine engineering. From there, he earned a U.S. Naval post-graduate degree in electrical engineering. He earned a master's degree in management from George Washington University, then in the 1970s, after leaving the Navy, he earned a degree in real estate. He also worked a stint as a merchant marine, and later ran a tree farm near Chipley.
Now, he has an art degree, doing so by rubbing elbows and palettes with young people a quarter of his age.
He loved it.
"The kids were so sweet," he said of his fellow students. "I think they were shocked to see someone my age in there with them. But it was great. Sure, some had diamonds in their noses, tattoos all over and red-spiked hair, but those things don't mean anything. They were just sweet kids."
Faculty members confirmed Sutherland's rapport with the whippersnappers and UWF instructors.
"He brought with him a lifetime of wisdom and knowledge," said James Jipson, an associate professor in the UWF Art Department. "He became a surrogate teacher of sorts. If he thought a point had not been clear enough or heard well enough, he'd speak up and reinforce the message of whatever we were working on. It was wonderful reinforcement to me."
And the students listened.
"The students are generally 19 to 22 years old," Jipson said. "I was concerned they would not listen to someone that age. But I saw, on many occasions, students going up to him at the end of a class periods and give him a hug and say 'Thank you.' It was a privilege and an honor to have him in class."
But for Sutherland, the honor was all his.
"Those professors are so dedicated to the students," Sutherland said of the UWF faculty. "I heard from students who came from Jacksonville and other places to UWF, just because of what they had heard about the art department."
Sutherland has his degree. But the painting still continues at the art room at Azalea Trace. He was inspired to paint by his grandfather, an old Colorado cowboy artist.
But Sutherland admitted he really didn't know much about art until he arrived at UWF.
"What did I learn? I learned I didn't really know anything about art," he said. "Until you know art history and the techniques, you're not an artist."
He plans on signing up for new classes soon, studying Web media art and photography.
"It's one of my New Year's resolutions," he said. "I want to keep learning."