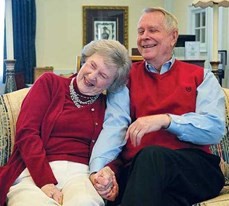 John Pearce, 80, met his wife Ina Mae Pearce, 81, after she moved into Lanier Village Estates in 2005. The Gainesville pair were both widowed when they met.
John Pearce walked Ina Mae to her apartment after having supper with a friend one evening and asked her if she would like to accompany him to the center's dance class the following day.
"I said, 'Well, I don't dance. I've never gone dancing,'" Ina Mae said. "Then he said 'Oh, I can teach you.' And I said 'OK, buddy. If you think so, good luck.'"
The next day Ina Mae arrived at the class before John and sat behind a number of women at the end of the row waiting for class to start.
As the instructor made his way down the row of ladies asking each to dance "they'd said 'No. I'm waiting to dance with John Pearce,'" Ina Mae said.
But when John Pearce arrived, he walked directly to Ina Mae and tried to lead her onto the dance floor. Ina Mae hesitated, afraid the other ladies would be jealous.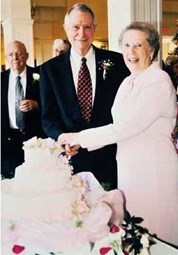 "He said 'Oh, we won't worry about that,'" Ina Mae said. "But we had a little competition on the dance floor."
"But here's the winner," John said, laughing as he pointed to his bride. "One thing lead to another and by Dec. 18 of that year we married."
The Pearces laugh and said "patience" is beneficial in a marriage, as is shared faith.
"There's a lot of give and take," Ina Mae said. "But he gives a lot more than he takes."