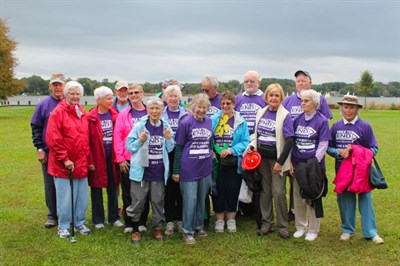 CHESTERTOWN - Kent County's first Walk to End Alzheimer's, a fundraiser to fight the disease, drew 75 participants of all ages Saturday, Oct. 4 in Wilmer Park.
Jennifer Fitzpatrick, an education consultant with the Alzheimer's Association of Greater Maryland, said the walk raised some $4,000 for research on the disease.
Those taking part in the fundraiser included a large contingent from Heron Point; several staff members of the Kent County Medical Adult Day Care Center; Muriel Cole of HomePorts; and Walgreens Pharmacy, which provided bottled water for participants.
The walkers followed the Gilchrest Rail Trail from the park to Lynchburg street and returned along the same route.
Gail Yerkie, director of Medical Adult Day Care, said in opening remarks, "I've seen a lot of folks afflicted by Alzheimer's." She said she'd always hoped to have an event to raise public awareness of the disease. She said the light drizzle that fell at the beginning of the day "did not dampen our spirits."
Fitzpatrick said that Alzheimer's is the sixth most common cause of death in the U.S. She said there is no current treatment that offers a cure, remission, prevention or slowing of the effects of the disease. She said the Alzheimer's Association offers free presentations to community groups. Call 1-800-272-3900 for more information.
In a follow-up email, Tuesday, Oct. 7, Fitzpatrick said about 3 percent of the population in Kent County has been diagnosed with Alzheimer's. "That does not count the many, many more affected by other types of dementia like Lewy Body, Parkinson's, vascular, or frontotemporal dementia," she said.
Also, Fitzpatrick said, a conference sponsored by the Alzheimer's Association at Heron Point, set for 8 a.m to 1 p.m. Thursday, Oct. 9, will bring speakers on Alzheimer's research, advance medical orders, the use of music for patients with dementia and advice for caregivers. Registration is free for caregivers, she said.
http://www.myeasternshoremd.com/news/kent_county/article_cb75755a-35fd-5163-847e-847e2a4ec5f0.html