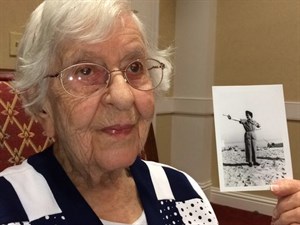 Not all of Army 1st Lt. Jessie Hamlett's memories serving during WWII are of death and destruction.
She remembers the devastation from the attack on Pearl Harbor, but what she remembers more are the relationships she formed with her fellow soldiers through the shared bond they had in serving their country together.
"It sounds kind of awkward to say this but there were some good times in the war," Hamlett said. "A lot of it was getting to know the people next to you. Every time you had to move there was always a new group."
Hamlett, now 100 years old, remembers her short three years in Women's Army Auxiliary Corps fondly. Hard of hearing and having to use a walker, the Army veteran was still extremely cognizant and excited to share her story.
"I think what I remember most is the attitude of the people," Hamlett said. "They all seemed to think the same way. Somebody bombing [some place] - that was awful, and everybody was very upset about it."
The attack on Pearl Harbor affected everyone in the nation - some more than others - but its effect on Hamlett forced her to leave behind her secretarial job in Boston to enlist in the U.S. Army in 1942, at 28 years old.
"Everybody in the country wanted to do something," she said. "You could feel it, because Pearl Harbor was right near the United States, and they didn't want anybody to come and bomb the United States."
Hamlett served as a quartermaster in the Supply Corps of the WAAC. Her job was to make sure the Army equipment and systems were operating correctly and efficiently, and to supply support for the soldiers.
She said the job was easy and she was happy to help the ones fighting for the country in this way. And while she only had the intention of doing her part to help after the attacks, her experience in Army altered her life beyond just that reason.
"I met my husband in the Army," Hamlett. "We were up at Fort Monroe."
Hamlett and her husband, Capt. Frank Hamlett, met during her service, fell in love and were married right there on the base at Fort Monroe in Virginia. She said it wasn't a fancy wedding, but they were married for 56 years before her husband passed in 2001.
Hamlett's husband worked in electronics and radar, and would often stop at the Supply Corps before traveling to a different town with his squadron. To this day, she has black and white photos of her and her husband driving on the base, sitting at various installation buildings and even practicing at the shooting range together.
In addition to those photos, Hamlett also has every single official document, photo ID and duty station orders she ever received during her three-year service.
"When we were in the Army, they told us to keep your orders - in case something happened you could always go back. So I kept mine. They were in the filing cabinet and my girls came by and made a book out of it," she said.
Hamlett has four daughters, one of whom made it a point to scrapbook her entire Army experience. Not only that, but they kept and preserved her uniform and saved a target cloth blanket with various unit patches sewn on that Hamlett received from her fellow Army soldiers.
She said she liked her time in Army and made friends with many people, all of whom joined for the same reason.
"I enjoyed it. You knew you were doing something that was needed," Hamlett said. "And all the Army people that I met were awfully nice. I don't remember ever having a to-do with anybody."
Hamlett remembers her time in the military as enjoyable and productive. She was making a difference, changing lives and forming relationships she otherwise would not have.
http://www.pnj.com/story/news/military/2014/11/10/attack-wwii-vet-shares-army-experience/18768725/
While the attacks on Pearl Harbor were unimaginable, to say the least, the 100-year-old veteran chooses to remember those who, like her, made the steadfast choice to serve their country.