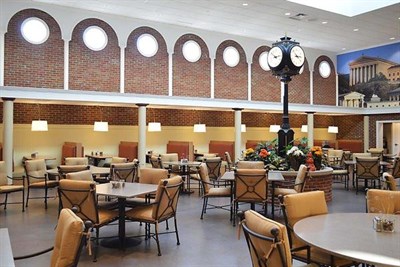 While ACTS, which owns and manages 23 CCRCs along the East Coast, typically sets aside $55 million each year for community improvements, the latest investment indicates the operator is nearly doubling down on its repositioning efforts.
And ACTS' growth strategy is bucking the trend among CCRC operators, many of whom have struggled to regain footing since the recession and have faced a "grow or die" mentality, forcing more affiliations, mergers and acquisitions among the sector.
For ACTS, the latest announcement represents a strategy for future success, giving residents more options and more flexibility at its campuses.
Among the renovations currently taking place or in development are: the addition of casual dining bistros, spacious fitness centers and more home-like health care centers. ACTS is also adding larger apartments with optional floor plans and upgraded interior furnishings as well as single-family homes within many campuses.
"The next wave of seniors who will be moving into our communities have different expectations not just in activities they prefer but how they want to live," said ACTS CEO Mark
ACTS Retirement-Life Communities isn't one to let any grass grow under its feet. And the organization's latest investment is a testament to its strategy to consistently revamp its continuing care retirement communities (CCRCs) with an eye toward the future.
The Philadelphia, Pennsylvania-based organization, the largest not-for-profit owner, operator and developer of CCRCs, announced Tuesday its strategic plan to renovate and reposition each of its communities - a $300 million investment over the next three years.
Vanderbeck, in a written statement. "The retirement communities that will thrive in the future will offer greater choice, flexibility and customization that the next generation of retirees will demand."
Previously, Vanderbeck explained the organization's growth strategy in an interview with SHN, noting the importance of its repositioning efforts. At the time, ACTS had recently announced a $138 million expansion of its Matthews Glen campus in Matthews, N.C., which would add 216 independent living apartments and 40 one-story villas, among other additions.
The most recent announcement, however, includes various enhancements at each of the organization's campuses, some of which date back to the 1960s. The majority of its campuses were built in the 1970s and 80s, while a few were built in the 90s and a couple in the 2000s, according to Michael Smith, corporate director of communications.
It follows, then, that some community projects will be more extensive than others, Smith adds. For example, in the Philadelphia suburbs, ACTS is planning $120 million in upgrades at its eight CCRCs in Bucks, Delaware and Montgomery counties.
Granite Farms Estates in Media, Delaware County, is among the larger projects and is undergoing several enhancements over the three-year period totaling approximately $40 million. The upgrades include a new bistro cafe, fitness center, heated indoor pool and larger independent living apartments.
Funding for these repositioning efforts will primarily come from operating capital, tax-exempt financing and fundraising, according to the organization. 
With a significant amount of money invested in revamping the communities, ACTS hopes the improved campuses provide more than just an updated appearance for current and future residents.
"The repositioning and community enhancements that we are undertaking will help us to meet the expectations of a more active and demanding population of seniors who may want to downsize but not downgrade their lifestyle," Smith said. "Senior housing is a lifestyle choice and we want to continually improve on the retirement lifestyle experience to attract the next generation of retirees. We believe we are at the beginning of a great future for our type of community."
You can also read the article on Senior Housing News' website here.