$120 Million Planned for the Greater Philadelphia Area
Acts Retirement-Life Communities, one of the nation's largest senior living providers, is in the midst of a multi-year strategic plan to renovate and reposition its retirement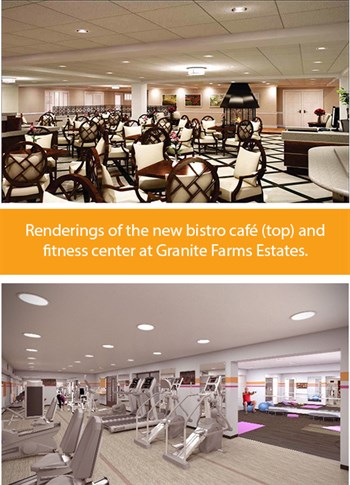 communities in preparation of serving the next generation of retirees. The renovations are expected to total approximately $300 million over the next three years.
In the Philadelphia suburbs Acts is planning $120 million in upgrades at its eight continuing care retirement communities (CCRCs) in Bucks, Delaware and Montgomery counties. Among the larger projects is at Granite Farms Estates in Media, Delaware County, which is undergoing several community enhancements over a 36-month period totaling approximately $40 million. The upgrades include a new bistro café, fitness center, heated indoor pool and larger independent living apartments.  
"The next wave of seniors who will be moving into our communities have different expectations not just in activities they prefer but how they want to live," said Mark Vanderbeck, Acts Chief Executive Officer. "The retirement communities that will thrive in the future will offer greater choice, flexibility, and customization that the next generation of retirees will demand."
Acts communities accommodate seniors at various stages of health from independent living to assisted living and skilled nursing care residences on a campus-like setting. Among the renovations currently taking place or in development include the addition of casual dining bistros, spacious and well-appointed fitness centers, and more home-like healthcare centers. Acts is also adding larger apartments with optional floor plans and upgraded interior furnishings as well as single-family homes within many campuses which have shown to interest a younger generation of seniors.
Acts' development activities extend to other areas throughout the east coast where it has existing campuses. Funding will primarily come from operating capital, tax-exempt financing and fundraising.
About Acts
Acts Retirement-Life Communities is the largest not-for-profit owner, operator and developer of continuing care retirement communities (CCRCs) in the United States. Headquartered in suburban Philadelphia, ACTS serves approximately 8,500 seniors through its family of 23 life care retirement communities in Pennsylvania, Delaware, Maryland, North and South Carolina, Georgia, Alabama, and Florida. For more information please visit: ACTSretirement.org.