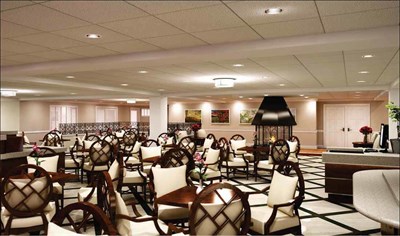 ACTS Retirement-Life Communities is spending approximately $300 million over the next three years on renovations to prepare for a new generation of retirees, according to a statement released by the company on Tuesday.
In the statement, ACTS, the "largest not-for-profit owner, operator and developer of continuing care retirement communities in the United States," said it will be upgrading its communities with new and improved amenities such as "bistros" that offer expanded hours and greater options for casual dining, larger fitness centers and apartments, and more home-like healthcare centers.
ACTS said $120 million will be used at its eight communities in the greater Philadelphia area, five of which are in Montgomery County.
These include Brittany Pointe Estates in Lansdale, Gwynedd Estates in Ambler, Normandy Farms Estates in Blue Bell, Spring House Estates in Lower Gwynedd and Fort Washington Estates in Fort Washington according to its website.
Renovations already underway at some facilities and in development at others are part of "a multi-year strategic plan to renovate and reposition its retirement communities in preparation of serving the next generation of retirees," according to the statement.
It said the series of upgrades, running through 2017, are expected to cost about $300 million which will be sourced primarily through operating capital, tax-exempt financing and fundraising.
"The next wave of seniors who will be moving into our communities have different expectations not just in activities they prefer but how they want to live," ACTS CEO Mark Vanderbeck said in the statement.
He added, "the retirement communities that will thrive in the future will offer greater choice, flexibility, and customization that the next generation of retirees will demand."
One of the largest projects in the area is taking place at Granite Farms Estates in Media. According to the statement, that community is receiving a $40 million upgrade which includes a dining bistro, a new fitness center, a heated indoor pool and larger apartments for independent living residents.
Corporate director of communications for ACTS, Michael Smith said the renovations at other communities are not as encompassing as those at Granite Farms Estates but will incorporate some of the same features as ACTS moves toward providing more options for seniors to pursue an active and rewarding lifestyle.
Smith said there are more Americans over the age of 65 today than in any other time in the country's history and demand for senior living communities is expected to grow as the baby boomers start hitting age 75 in the year 2020. According to Smith the investment into renovations and upgrades announced in the statement as well as continuing improvements at every community will help ACTS meet the expectations of that coming generation.
Amenities such as multiple dining options, entertainment, computer centers and pools are becoming the norm in retirement communities, according to Smith, and ACTS is continuing too look toward the future and meeting the needs of the next wave of seniors moving into the community.
"Seniors are choosing communities that offer a variety of services, amenities and activities that enable them to lead socially and physically active lifestyles," Smith said.
He also said ACTS works on an ongoing basis to enhance its communities.
"Part of our overall strategy for future success is to continuously upgrade our campuses and continue to raise the bar by finding new and innovative ways to better serve seniors," Smith said.
The benefits of CCRCs such as those operated by ACTS is that seniors have the opportunity to pursue a rewarding lifestyle while having the security of healthcare services to care for them.
ACTS is headquartered in Pennsylvania but, according to the statement, has 23 communities in eight states including Delaware, Maryland and Florida. More informations about ACTS and its communities can be found at www.actsretirement.org.