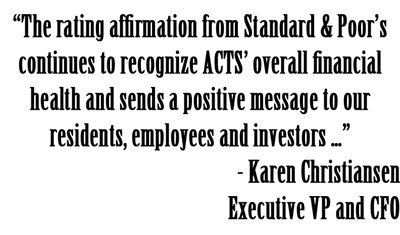 ACTS Retirement-Life Communities, one of the nation's largest not-for-profit senior living organizations, has received a positive assessment of its financial health by Standard & Poor's.
ACTS received a 'BBB+' credit rating with an outlook of stable, reflecting the view that demand for ACTS communities will continue to remain strong and that ACTS is well positioned to remain profitable. ACTS is the largest owner, operator and developer of continuing care retirement communities (CCRCs) in the United States.
The S&P report highlighted ACTS' financial performance, strong revenue base, and effective management practices as the key factors in its ratings assessment. S&P placed significant weight on ACTS' revenue size and the financial flexibility it derives from its network of 23 CCRCs across the east coast, which enables the organization to achieve operating and cost efficiencies that should lead to continued financial stability.
ACTS has achieved steady growth in the senior living industry through new development projects and acquisitions, and has revenues totaling more than $379 million. In addition to its BBB+ rating from S&P, ACTS maintains an A- rating from Fitch Ratings. The ACTS communities consist of approximately 5,300 independent living units, 850 assisted living units and 1,360 skilled care beds.
"We are very proud of the strong credit ratings that ACTS has maintained over the years," said Karen Christiansen, ACTS Executive Vice President & Chief Financial Officer. "The rating affirmation from Standard & Poor's continues to recognize ACTS' overall financial health and sends a positive message to our residents, employees and investors that they are a part of an organization with strong financial performance that is also mission-driven."
About ACTS
Headquartered in suburban Philadelphia, ACTS Retirement-Life Communities, Inc., is one of the nation's premier senior living organizations serving approximately 8,500 seniors and employing 6,200 people. ACTS currently owns and manages 23 not-for-profit continuing care retirement communities (CCRCs) in Pennsylvania, Delaware, Maryland, North and South Carolina, Georgia, Alabama and Florida. Website: ACTSretirement.org.