Acts communities are a treasure trove of residents with unique life experiences and backgrounds, with many serving in our armed forces. A large number of veterans live across our 27 campuses, which is why celebrating and honoring those who serve is so important.
Each November, Veterans Day is filled with meaningful events across Acts campuses to recognize all our veterans for their sacrifice, service, and dedication to their country.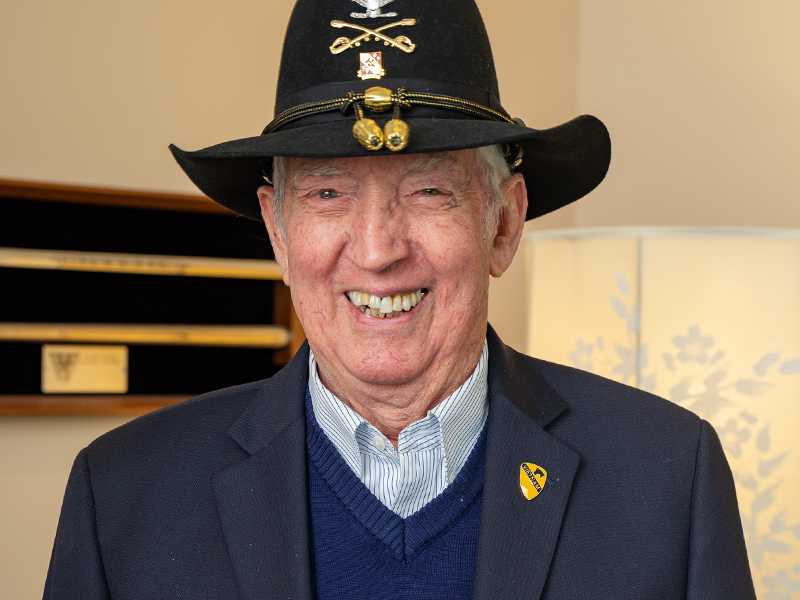 At Magnolia Trace, in Huntsville, Alabama, residents look forward to joining representatives
from the American Legion in a Veteran's Day flag raising ceremony, and honor those who served with a slide show of photos from its residents' years in service.
"It's a special and beautiful ceremony," said resident Eugenia Graves, an Army nurse and veteran who served in Saudi Arabia during Operation Desert Storm. "With Magnolia Trace right here near the Redstone Arsenal, there are many colonels and generals who speak to our veterans."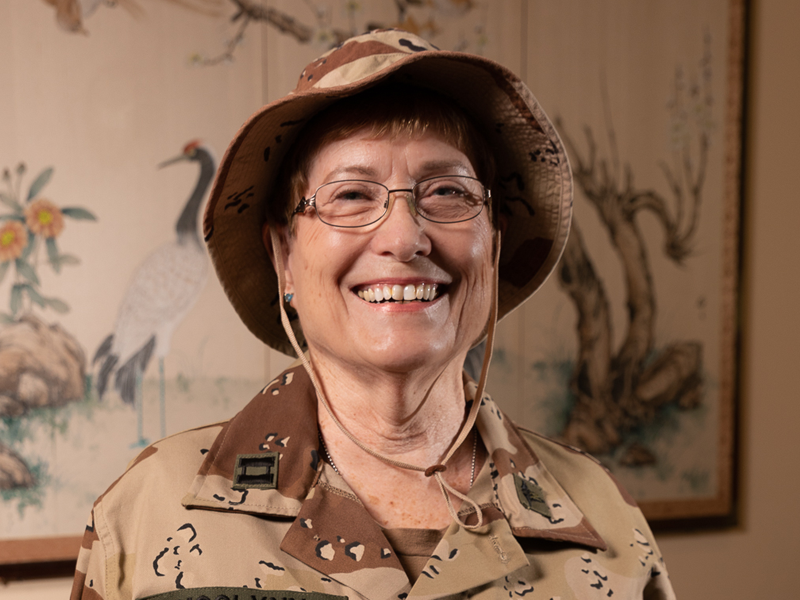 "We still have WWII veterans who live here and it's just phenomenal to have them at our community," said LCDR Alva Baker, MD, a resident of Fairhaven in Skyesville, Maryland.
Dr. Baker served in the U.S. Navy and was a physician at the Naval Regional Medical Center in Jacksonville, Florida.
"There's a lot of camaraderie among our veterans at Fairhaven. Some guys wear baseball caps with their branch of service," said Dr. Baker, who spearheads the Veterans Day program at his community. "The spouses of our veterans are also very actively involved in the planning of our events."
"Everyone participates, and we get up for a group photo for each of the branches," said Commander, USN (Ret.) Frank Simmons, a Fairhaven resident who served in the Navy and graduated from the U.S. Naval Academy. "It's great to see all our veterans be appreciated."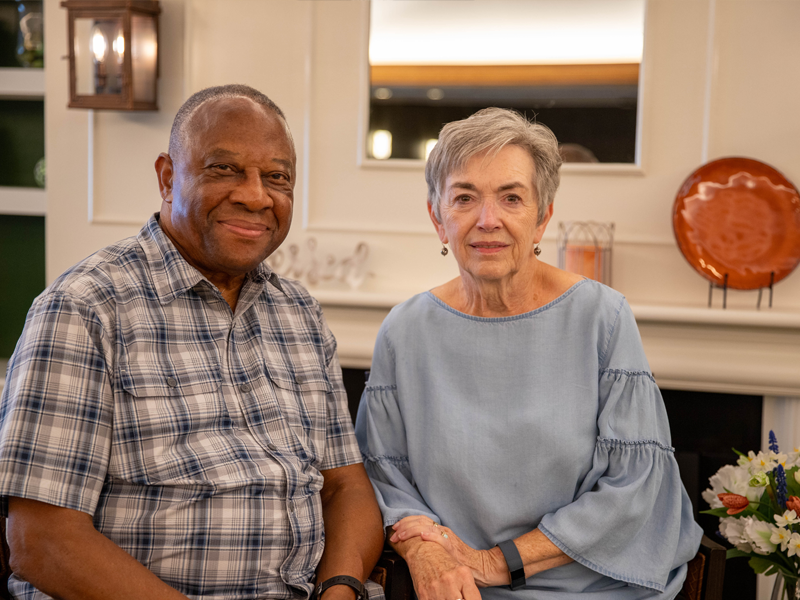 "We appreciate the recognition, and we definitely feel appreciated here by people who work at Fairhaven, too," said Col. John Ramsden, another Fairhaven resident, who served 31 years in the U.S. Army. Col. Ramsden served in Vietnam as an officer with the First Cavalry Division, along with other overseas assignments in Okinawa, Japan and Saudi Arabia.
"I look forward to the Veterans program each year," said his friend, resident Normand Desmarais, who served 20 years in the U.S. Navy Supply Corps.
Desmarais was a student and later a teacher at the Navy Supply Corps at the Naval Station in Newport, Rhode Island. He also served overseas with the Military Equipment Delivery Team, Cambodia.
Desmarais and Ramsden met at Fairhaven, became friends, and exchange, "Beat Army!" "Beat Navy!" cheers throughout the year.
"We kid around about the Army-Navy game," Desmarais said. Fairhaven hosts a screening of the annual rival Army-Navy game, complete with popcorn in their auditorium.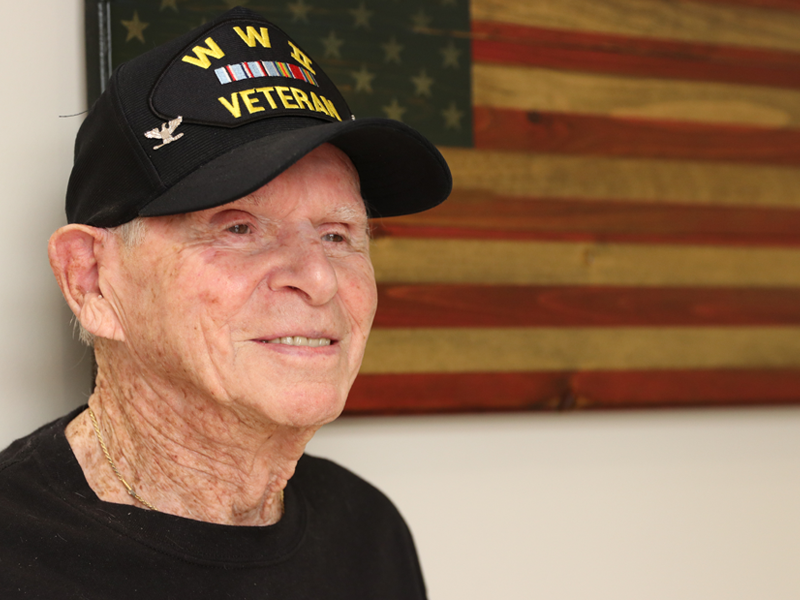 A large number of veterans also live at Azalea Trace, in Pensacola, Florida, due to its proximity to the Naval Air Station, known as "The Cradle of Naval Aviation." Many residents with military careers are now happily retired at Azalea Trace.
Veterans like Charley Pritchett, a World War II veteran who served as a radioman in the Battle of Okinawa, the bloodiest battle of the Pacific war. He survived Japanese submarines and kamikazes attacking his ship.
"We had a Prisoner of War presentation years ago, and little did you realize what other residents went through," said resident Charley Pritchett. "Often they don't want to talk about it. It's like tearing a scab off a wound, but if you know them well enough you can extract some interesting stories."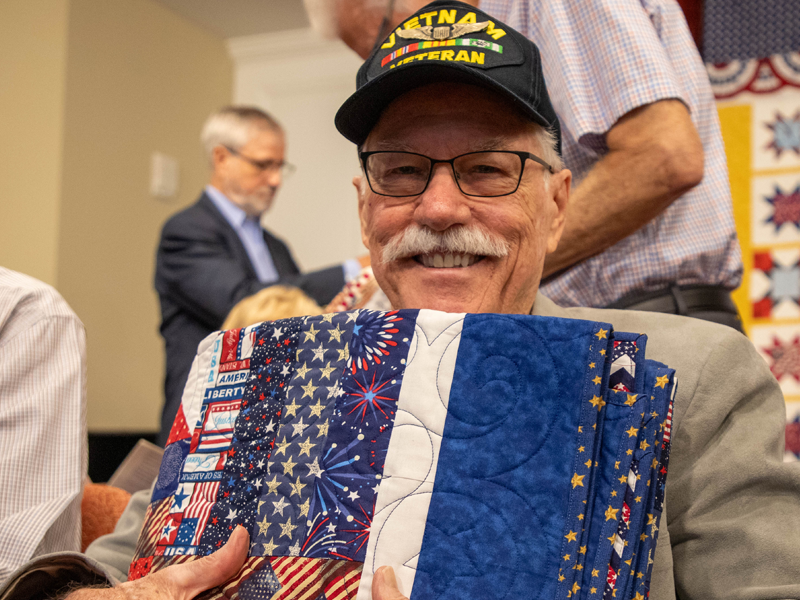 There is also a table at the community's restaurant permanently reserved to recognize those prisoners of war who never returned home, a powerful gesture to remind others of sacrifice and service.
If you're a veteran, ask your Life Care Consultant about a $2,500 discount on your entry fee, our special discount to honor servicemen and servicewomen who move into an Acts community.