We are pleased to report that the Acts Obligated Group was once again awarded an A- credit rating from Fitch Ratings, one of the nation's most recognized and respected credit rating agencies. This prestigious rating highlights several important fiscal strengths of Acts:
Strong financial performance
Improved operating profitability
Strong overall occupancy across the organization
Sound management practices
"The affirmation  of this rating is a positive statement, not only about the 2019 and 2020 financial and operating results, but also acknowledges the ability of our management team to protect and care for our residents during the pandemic," said Richard Winter, Acts Senior Vice President & Chief Financial Officer.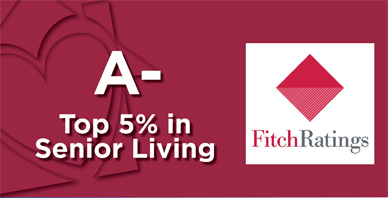 The A- rating from Fitch places Acts among the top five percent of senior living communities nationwide for financial health and stability. Great news and further confirmation that the future is incredibly bright at Acts!
*The Acts Obligated Group excludes the Acts affiliate communities of Integrace, Heron Point, The Evergreens and Westminster Village, which operate as separate legal entities of Acts.