"It was the best day of my retirement," said 95-year-old World War II veteran Duane Webster of St. Andrews Estates in Boca Raton, Florida.
All smiles, Webster saluted cheering spectators as he strapped on a leather helmet, goggles and headset to embark on the ride of a lifetime. He's one of six veterans at St. Andrews Estates honored by a complimentary "Dream Flight," courtesy of Ageless Aviation Dreams Foundation.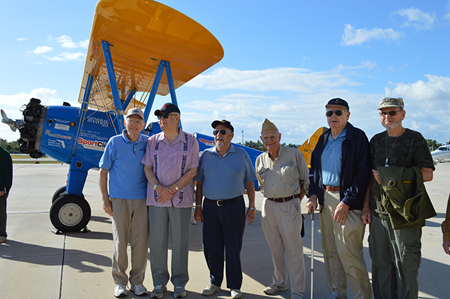 Decades ago, Webster served as a navigator for the U.S. Marine Corps transportation squadron and flew missions over the Pacific Ocean during the war. He had not stepped aboard an aircraft like this since 1948. The bright blue and yellow 1940s vintage Boeing Stearman biplane, used to train military aviators during WWII, brought back fond memories for Webster. 
"It's hard to explain," the WWII veteran told the Palm Beach Post, "But it was a thrill. A deep, deep thrill."
St. Andrews Estates residents marveled at the adrenaline rush from the open cockpit, soaring 1,000 feet at speeds of 85 miles per hour. Each of them has remarkable backgrounds in military service.
Bob Breiling, 88, has 24 years of active Navy Reserve service. He flew carriers day and night on hundreds of missions during the Korean War. He then deployed to Cuba in the 1960s before Vietnam. Bob later became a commercial pilot for Pan-Am.
Eugene Brogan, 87, also served with the U.S. Navy during the Korean War. After his military service, he became a pilot for United Airlines.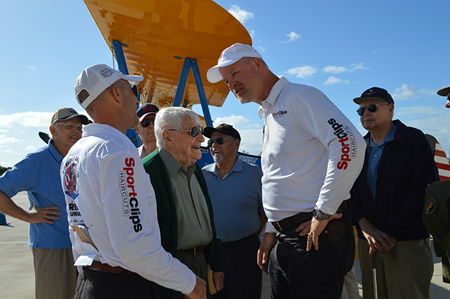 Ed Skolkin, 88, flew airship blimps over the Pacific and Atlantic oceans during World War II. He was a radioman responsible for detecting enemy submarines.
"It's been a long time since I've flown in a plane that small," Skolkin said.
Richard Milan, 85, served as a medical specialist at Fort Sill, Oklahoma. He flew in evacuation helicopters. Before his flight, Milan shared stories with the other veterans and pulled out his military orders from the 1940s and a photo of him as a young soldier.
Jerry Owens, 77, was stationed near Tokyo at the U.S. Army Security Agency Communications Unit Japan. He handled critical and highly-classified information from collection stations thorught the Pacific region including Vietnam, which was heating up quickly in the early 1960s.
Bob Delorenz, 81, is a career pilot with an incredible passion for flying. It was his idea to recognize our veterans and pull together this group to take part in this exciting opportunity.
Our Florida campuses and their residents are always buzzing with events and activities, much like this one! Read more about the Acts Retirement Florida Communities and what they have to offer active older adults in retirement.