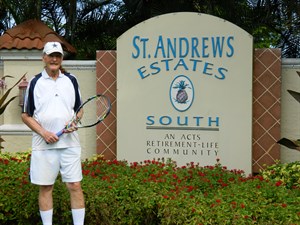 September is "Healthy Aging Month" and a Boca Raton man is taking the campaign seriously.
"A lot of people don't believe I'm 83," Roy Taylor said
Taylor said he feels more like 60 and he owes it to playing tennis.
Taylor has been active all his life, playing basketball and football, but when it came to getting older, he wanted something less stressful, so he took up tennis.
"It's everything I want to do," Taylor said
He plays in two leagues and plays so much his wife tells him to slow down, he said.
"I played five days this last week," Taylor said.
As for how long he wants to keep hitting the court, he said he hopes it's a long time.
"I would say in my 90's at least," Taylor said.
http://www.wpbf.com/news/83yearold-using-tennis-to-stay-active/28216374