The weather is heating up and so are travel plans. In fact, a report by The New York Times indicates more Americans are traveling this summer than last, based on a significant rise in airline booking and vacation rentals.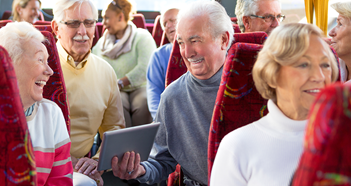 Fortunately, traveling is much easier after retiring, as you have more time to explore faraway lands, or take a daytrip for a scenic adventure. That nine-to-five job that was once holding you back is now in your rear-view mirror. The world is at your fingertips. But how do you even begin to enjoy it?
Here are four summer tips for traveling in retirement.
1. Senior-tailored Excursions
Online booking has drastically changed the travel industry, replacing the need for a travel agent. However, you may want to consider a private agency for traveling post-retirement. Not only will you outsource the stress of planning your next trip, many agencies specialize in travel for seniors.
Residents of Acts Retirement-Life Communities have enjoyed excursions planned by Ising Travel since 1979. The boutique agency handles all the time-consuming logistics, and offers inclusive packages with roundtrip airfare, door-to-door transportation, and an itinerary filled with enjoyable activities catered to seniors. Travelers are also offered 24/7 emergency services for worry-free adventures.
A group of Acts residents recently embarked on a private 10-day "Old American West" tour that included excursions at Canyonlands and Arches National Parks in Utah, a jetboat cruise on the Colorado River, and visits at the breathtaking Mesa Verde Cliff Dwellings and the Four Corners National Monument in Colorado.
Residents enjoyed train rides on the Pike Peak Cog Railway, a scenic journey that inspired Katharine Lee Bates to write "America the Beautiful," and the popular Durango and Silverton Railroad, voted "top 10 most exciting train journeys in the world."
"This was my fourth trip with Acts. They've all had great accommodations and top-of-the-line meals," said Julia Gray, a resident at Fort Washington Estates. "They take care of you the whole way. I spent two weeks in Italy. It was fabulous!"
Many of these excursions are perfect for traveling retirees, as the trips are tailored to educate travelers passionate about exploring new surroundings and different cultures. "The tour guides have a great depth of knowledge. I enjoy learning and seeing places I've never been before," said David Buchanan of Southampton Estates.
"Our criteria is to go someplace we've never been," said Dawn Macy, a resident at Brittany Pointe Estates. She and her husband have been on three trips with Acts. "We love socializing with groups from other retirement communities. We laugh together, it's just great."
Macy said the best part is leaving the planning to someone else. "When things go wrong, as it happens with life, they take the stress out of traveling. You just know you'll have a good time."
Let the experts handle the tours, tickets, and timing. All you need to worry about is packing your bags.
2. Travel on Off-Peak Days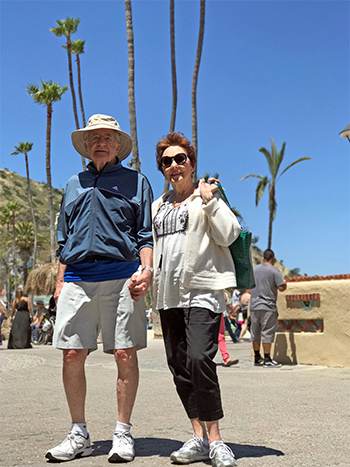 Now that you're retired, use your flexibility to take advantage of incredible travel deals.
Since you are not restricted to Friday and Sunday flights to get back to the office, consider structuring your plans to travel on off-peak days. This allows travelers to save money, avoid crowded airports and longer security lines.
Generally, flights departing Monday through Wednesday, particularly in the late morning or early afternoon are the lowest priced by airlines. Plus, you'll be more likely to score a row with an empty middle seat or more leg room.
Be careful while traveling during off-peak seasons, particularly while traveling abroad. Flights to the Caribbean are typically cheaper from June to November, but that's because it's the hurricane season. Flights cancelled for weather-related issues can typically be rebooked for a later date – but travel experts say cheap low-season tickets are often non-refundable.
3. Ask for Senior Discounts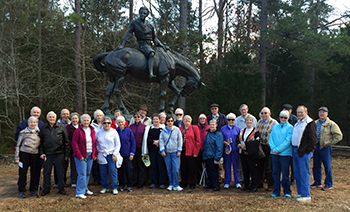 Another great benefit of traveling in retirement is that travel bargains for seniors are everywhere. You just need to know where to look, and what to ask for. By air, land or water, seniors may be entitled to amazing discounts.
For nature lovers, ages 62 and up, visit all the National Parks for just $10. The Senior Lifetime Pass can be used at over 2,000 federal recreation sites across the nation, including National Parks, National Wildlife Refuges, and many National Forest lands.
Make it an adventure! Residents at Park Pointe Village in Rock Hill, South Carolina traveled to all 47 state parks in South Carolina. Some 70 travelers trekked 5,921 miles throughout the year to accomplish this feat.
If you're a member of AAA, AARP, or a veterans' group, mention it when you book and you may be able to get substantial discounts on hotels, flights, or rental cars.
For air travel, sometimes it's cheaper to call the airlines than purchase flights online. American Airlines, Delta, Southwest Airlines and British Airways offer discounts for travelers ages 65 and older. To receive the senior discounts, travelers must book over the phone. Call the airlines' reservation department to ask about these lower fares.
4. Travel with the comforts of home
Want to travel but unsure about being away from the comforts of home? Acts residents have the opportunity to visit – or even relocate – to any of Acts' 22 senior living communities across eight states, and enjoy all the benefits and conveniences associated with being an Acts resident. Our goal is to make it easy for retirees to travel!
Residents can experience the southern charm of Alabama, relax in the Florida sunshine, explore the North Carolina mountains, and sight-see in historic Philadelphia. Staying at an Acts community gives residents peace of mind being "home away from home" – they can enjoy meal plans, vast amenities, and health care as they would in their own community.
"It's a very convenient way to travel, and easy to make reservations," said Luke Nutt, a resident of Azalea Trace in Pensacola, Florida. "We love to travel and feel more secure staying on Acts campuses."
Nutt and his wife have stayed in guest suites at Lanier Village Estates (Gainesville, GA), Tryon Estates (Matthews, NC), St. Andrews Estates and Edgewater Pointe Estates (Boca Raton, FL). They plan to visit Pennsylvania soon.
Go for it!
Those who enjoy traveling post-retirement encourage others to give it a try. Don't miss out on amazing opportunities and places to see. Go ahead and book that summer getaway.
"I never really traveled before living at Acts," Gray said, "I did not think I'd enjoy traveling so much, but now I've gotten bit by the bug! I really love it."
In the words of Dr. Seuss in the children's book, Oh the places you'll go, "Today is your day! Your mountain is waiting so get on your way!"
Learn more about the Acts Lifestyle and how living in it can help fulfill your retirement dreams, including opportunities for travel!