Why should you retire in the Philadelphia area? Perhaps you already live in the area. Or some people decide to move to Philadelphia because it's close to their adult children and grandchildren (and then they often end up falling in love with Philly). The retirement communities in Philadelphia also have plenty to offer, and can enable you to live your retirement to the fullest.
---
Philadelphia, PA Retirement Communities
---
The Benefits of Retiring in Philadelphia, PA
There are so many benefits of retiring in Philadelphia, the only question is, what won't you love about it? Check out our list below for just a few of the benefits:
Peace of Mind When You Retire in Philadelphia
Residents at an Acts Retirement community get health care at a dependable rate. Watch the video find to out more:
Points of Interest and Local Landmarks for Philadelphia Retirees 
Besides all the great amenities at our Philadelphia retirement communities, what else does the region have to offer? Start exploring by checking out our interactive map below:
Highlights
Walkable: Philadelphia is one of the most walkable (and bikeable) large cities in America, making it easy to take in lots of sights around town.
Healthcare: Philadelphia has some of the best hospitals in the country – providing extra security for those who live at our community.
Great for Foodies: You probably know about cheesesteaks, but you might not know that Philadelphia is quickly becoming one of the best food scenes in the United States. It's got everything from fine dining, vegan, Thai, and anything else you could want!
Why Do Retirees Choose Philadelphia?
Lower Costs of Living: Compared to New Jersey or New York, Philadelphia and the surrounding areas are much more affordable for retirees.

An Active Lifestyle: For a major metropolitan area, Philadelphia has a surprising amount of green space, and there are fun activities for every weather season.

So Much Culture: Philadelphia is a mosaic of many different cultures, allowing residents and tourists alike to experience things they may never have had the opportunity to otherwise.

History: As the true birthplace of America, you just can't ignore the history of Philadelphia. It's a great place to be for history buffs.
Acts Network of Retirement Communities 
If you live in one of our Philadelphia area retirement communities you can visit all 26 of our campuses throughout the country. Take a trip to Georgia, Florida, South Carolina, or anywhere else Acts has a location.
---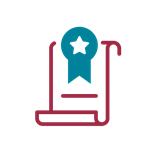 Acts has a commitment to excellence by continually evaluating its processes through external and internal processes. Acts' financial performance is regularly reviewed by Fitch ratings, the organization maintains an ethics trust accreditation, and regularly completes resident surveys.