So, you're in your 70s (or thereabouts) and still healthy for the most part, aside from the occasional aches and pains that come with growing older. You try and not let that hold you back too much. You're active, but getting a little tired of having to drive all over town to remain that way. You're doing your best to keep up with the household chores and yard work, but lately you've noticed that either they're a little more difficult to complete, or you simply don't have the spirit for all that work anymore.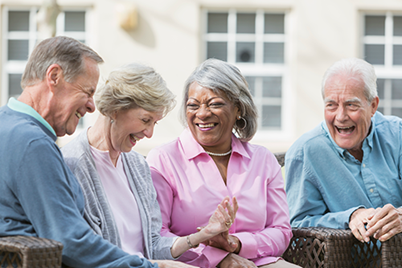 At some point, somebody passes a joke (or a hint) about a retirement community.
"I'm not ready for the old-folks home yet! No way I'm going to just deteriorate in one of those places!"
Sound like you or somebody you know? We get it; you haven't been introduced to the new world of Continuing Care Retirement Communities, or CCRCs, and all the benefits this lifestyle can bring to your health.
Are you ready? We're about to blow your mind.
The first thing we can promise you: These aren't your grandparents' retirement homes. Probably not even your parents'!
From body, to mind, and even spirit, many CCRCs are finding new and innovative ways to achieve overall wellness and offering opportunities for seniors to get healthier than perhaps they've ever been.
Below is a list of 7 of these benefits and how they keep seniors vibrant and therefore living longer.
1. Easy Access to Healthcare
We'll start with the most obvious, or our 'duh' category of the day: Easy and immediate access to healthcare. But this category might not be what you're expecting. This isn't limited to assisted living and skilled nursing care. Many seniors and their adult children expect that when they move into a retirement community, they're immediately entering what they believe to be a stereotypical nursing home atmosphere. But in most CCRCs, residents enter as independent residents who simply have a lot less responsibility than they used to when they owned a home. The options of health care are available if and when they are ever needed. Meanwhile, with that huge weight of responsibility off your shoulders, you as a resident can go about enjoying your retirement as intended.
And healthcare in a CCRC is not limited to assisted living and skilled nursing care. Many CCRCs have wellness centers available, staffed with nurses and nurse practitioners, similar to what you might see at a local easy-care clinic. Imagine having access to a primary care practitioner, just right down the hall. Knowing everything from treatment for a common cold to your long-term healthcare needs are all available under the same roof provides peace of mind and less anxiety over the unknown. Rehabilitation programs are often available, as well, for the proper recovery needed to get back to your independent lifestyle.
2. Socialization
Research shows that socializing and remaining social later in life provides numerous benefits to one's health, including both physical and mental health. That's right, simply having a cup of coffee with a friend on a regular basis can improve your brain health and even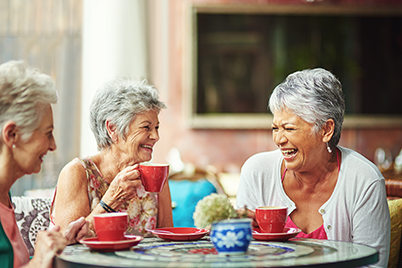 lower the risk for dementia. What are other benefits of socializing for seniors? For starters, those who stay social tend to live longer than those who isolate themselves. Also, seniors who have social support systems may also have stronger immune systems, and staying social boosts positive thoughts and decreases feelings of depression.
At a CCRC, you're never more than a few steps away from a friendly conversation and the opportunity to join a group of others who have similar interests as your own.
Your socialization can even benefit another. Volunteering is a perfect example. Options to volunteer within a retirement community are numerous, and many retirement community residents even develop groups to volunteer for local organizations. You can give back to others while benefiting your own health and well-being.
3. Security
This category encompasses both your physical security and potentially your financial security, too.
Many retirement communities are gated communities with 24-hour security personnel on staff. Like to travel? Simply lock your door and never give it a second thought that your home and its belongings are safe and sound. Enjoy walking at night? Doing so on a gated campus with security personnel handy is a peaceful feeling.
If you've chosen a retirement community with a life care plan, your future health care has already been pre-payed, securing your nest egg and avoiding skyrocketing healthcare fees. Your monthly expenses are predictable, again relieving you of the anxiety of the unknown.
4. Lifelong Learning
Brain health is just as important as your physical health. Lifelong learning and continuing education opportunities within CCRCs become an additional way of staying active in your senior years and keeping our assets sharp. Many Acts communities partner with local colleges for classes, seminars, and projects with students, or bring in outside organizations to provide educational opportunities.
What better time in your life to learn a skill or hobby you've always wanted to take up? We've already established that living in a CCRC frees you from the burdens of home ownership, so put all that extra time to good use! Lifelong learning will keep the mind sharp and help fill the excess time you never had before retirement.
5. Spiritual Benefits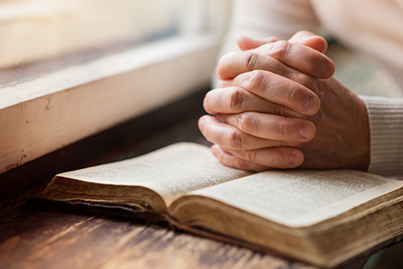 CCRCs that support the practice of spiritual beliefs offer the third foundation to the overall wellness concept of body, mind and spirit. It's important that you maintain or even strengthen your spirituality in retirement. Retirement communities who offer these opportunities in a convenient way are often seen extremely favorably among residents, potential residents and family members. Did you know that Acts has a full-time, non-denominational chaplain on staff at each one of its communities?
6. Nutritional Guidance
Health begins with what we put into our bodies. It's as simple as that and we don't need to explain in too much detail the importance of eating right. More and more CCRCs now have diet and nutritional counselors available for consultation, and even full-time dietitians. These dietitians and counselors can help create a nutritional plan for those who require special dietary needs due to a specific condition, or simply provide tips and ideas on how to choose healthy and flavorful options.
7. Fitness Benefits
Perhaps you're a lifelong fitness junkie. Or maybe you're looking for an excuse and the convenience to get back into shape. Maybe you're just seeking new and interesting ways to stay active. No matter where you fall on the spectrum, there's no denying that staying physically active, especially in your senior years, is extremely important. Research shows its benefits range from arthritis management, to treating insomnia, to prevention of heart disease and hypertension, to decreasing risk of cancer, obesity, depression and even dementia.
It's hard to find too many excuses not to exercise when your fitness center is right under the same roof. You can't look out the window and say, "It's too cold to go to the gym this morning" or "I don't want to ruin my new hairdo in the rain." Plus, many CCRCs offer classes that can open you to a whole new world of fitness possibilities that are both age-friendly and engaging. Yoga, for example, isn't just for the young and flexible. Swimming and aqua aerobics are low-impact exercises perfect for seniors. So, grab a buddy and walk down to the fitness center – you'll be achieving both socialization and fitness benefits!
Staying Active with CCRCs
Still think you'll be deteriorating in that "old-folks home?" On the contrary, you'll find that those who live in CCRCs will often comment that they've never been busier. These are just a few of the benefits of living in a CCRC that can help to achieve overall wellness and live a longer, more fulfilling life. Learn more by browsing our 23 Acts Retirement-Life Communities in eight states along the East Coast, and determine if our CCRCs might be the right fit for your healthy lifestyle!