By Connie Rasmussen, PT
Regional Director of Rehabilitation
Acts Signature Rehabilitation Services
As we age, the benefits of physical therapy become more imperative – and not just after a serious injury. In fact, physical therapy can help seniors prevent a serious injury that may have a profound affect.
Physical therapists play a critical role in helping seniors maintain their independence and quality of life. Research continues to show that over 60% of seniors fall annually and half of those who fall never return to independent living.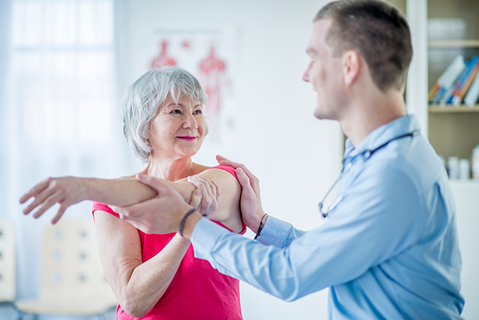 More often than not, seniors who are living independently do not realize how vulnerable they are until a critical event occurs, such as a fall or hip fracture. This sets them on a downward spiral that we call a "slippery slope" from which they cannot recover.
But there is good news: Falls are preventable. Physical therapists now have a multitude of tests that can identify an elderly person's risk of falling.  Many of these tests are related to strength and balance. Physical therapists can tell an individual how their strength or balance compares with what is normal for their gender and age and how that relates to test scores for those who fall verses those who do not fall.
From there, physical therapists can individually treat impairments that place the person at risk such as strengthening specific muscle groups, improving balance components related to falls, improving range of motion that affects the person's ability to walk or balance normally. We call this an "exercise prescription".
An exercise prescription is the same as a medicine prescription. It requires an individual type of exercise, dose of exercise, and frequency of exercise designed specifically for that person's needs.
Physical therapists can treat many other conditions to improve an older person's ability to thrive. These include pain, bone strength, abnormal posture, endurance, diabetes management, heart health, Parkinson's disease, vertigo, the ability to walk safely and many more.
Too many seniors accept chronic pain as normal. Back, neck, or any other joint pain is NOT a normal result of aging. Physical therapists can correct movement disorders and inflammatory conditions contributing to pain. The right exercise improves and prevents pain. Physical Therapists also know that the right type of exercise has added benefits of improving brain function and cognition.
The goal of the physical therapy teams at Acts Signature Rehabilitation Services is to help keep our residents at the highest physical/functional level possible and to identify and mitigate resident risk before that person has a life altering event. We also aim to help our residents be able to continue to engage in activities that they enjoy.
We are proud that our evaluation and treatment principals are grounded in research and best practice guidelines from entities such as the Center for Disease Control, the Centers for Medicare and Medicaid Services, the American Physical Therapy Association, and the Academy of Geriatric Physical Therapy.
Visit an Acts community to learn about available health services.