Yvonne Heemskerk and her husband Paul moved into their Boca Raton, Florida retirement community in 2019, after an apartment they both loved, suddenly became available.
"We were on a wait list, and one day St. Andrews Estates called us. We had only three months to sell our home and move in," Yvonne said.
Yvonne had no idea, barely four years later, their decision to move to the Acts community was the most important decision in their retirement that if delayed, would have life-altering ramifications. Last year, Yvonne's husband Paul was diagnosed with Alzheimer's disease, and it progressed rather quickly.
"I didn't think this would happen. I didn't know he would have Alzheimer's or anything like that," Yvonne said. When her husband needed extra care, he was in the right place to receive assistance. And so was she.
"Everyone is wonderful," Yvonne said, "I'm glad I'm here now because of my support system. Our children are relieved and very happy we moved here."
With Acts Life Care, residents have access to whatever level of care they may one day need, and since it's prearranged with predicable monthly fees, there are no worries about surprise expenses related to care. This is not your typical 55+ community, continuing care retirement communities offer services from independent living, to assisted living, skilled nursing, rehabilitation, and memory care.
"We made a lot of friends since moving here, and now they invite me out to dinners. Everyone asks how I'm doing. The support system is great," Yvonne added.
Yvonne said she doesn't feel alone or isolated, like she would in her old home, if her husband needed more help. At her Acts community, Yvonne has a network of friends, who she sees every day, a team of medical staff who focus on her wellbeing as well as her husband's needs, and a full-time community chaplain who offers counseling and spiritual support.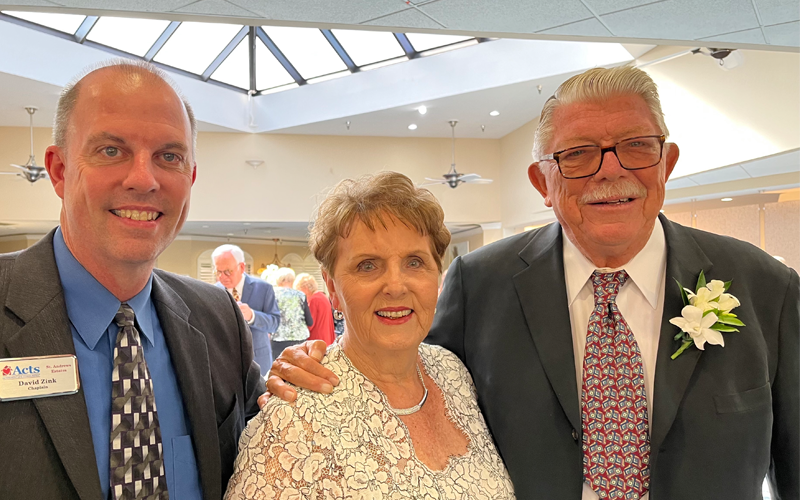 "We're here to listen," said David Zink, the community chaplain. "As a pastoral presence in the community, we are here for them – to walk through whatever it is our residents are going through, whatever their faith is, to offer support with any concerns, troubles and challenges."
Living on the same campus also helps Yvonne feel more connected to her husband despite his dementia. It's convenient to visit him and spend quality time by his side.
"It's easy to see him and have meals with him. That's what makes it nice," Yvonne said, "I take him for walks outside our community near the lakes, and to doctor's appointments or outside for lunch. His friends who live here visit with him, too. We play dominos together. That part is really great."
Yvonne said she never thought he would move into memory care so quickly, but it was the best decision for his wellbeing and more importantly, he's happy. "In May, we will celebrate 61 years of marriage. I want to make sure he's taken care of and gets the proper care."
Recently, Yvonne joined Acts staff at a hands-on dementia training event with world renown dementia expert, occupational therapist, and advocate Teepa Snow. All Acts' staff receive her training which uses innovative, individualized approaches to care, and offers techniques to assist caregivers to better understand brain changes from the perspective of someone living with dementia.
Read more about Acts Engaged Living program recently recognized by the Alzheimer's Association.
"It is so important to have this training for all his caregivers," she said, "I think it's wonderful."
Yvonne said she is beyond grateful she and her husband moved to an Acts community and did not wait when they received the call about their new home.
"This is what my husband wanted. It's phenomenal, really it is," she said.