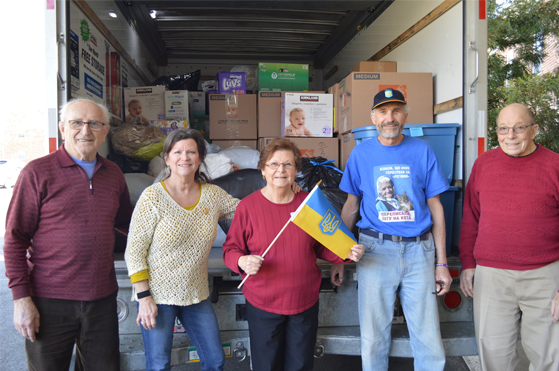 Ksenia Korzeniowski, a Ukrainian native who lives at Southampton Estates, spearheaded a donation drive and in just one week, residents and staff collected 125 boxes, a truckload of humanitarian aid for refugees in her homeland.
The war in Ukraine brought back memories for Ksenia, who was also a refugee as a child. She left Ukriane with her parents in 1945 and lived in a displaced person camp for years until her family was able to travel to the United States. She still has family in western Ukraine, south of Lviv.
"I have cousins; they are staying put because they have elderly parents to care for. Other relatives with children who are managing," she said. "But the nearby airport was recently bombarded. It seems like a nightmare that can't be true – it can't be really happening."
"It's so frightening. I'm getting texts from many of my family, it's getting worse there," Korzeniowski continued. "My niece who lives in Sweden and a cousin in Ireland are helping relocate refugees. Everyone is doing what they can. Everyone has a story."  
 Southampton Estates' truckload of donations was given to United Ukraine American Relief Committee. Residents filled up to 60 boxes and 25 bags of blankets and towels, 20 boxes of diapers and baby items, and 20 boxes of clothing, first-aid, and personal hygienic items.
"It was amazing. Everyone wanted to help," Korzeniowski said, "We sent a lot of blankets, towels, toiletries, and first-aid equipment, for the refugees. The concentration is now on the soldiers, how we can help them."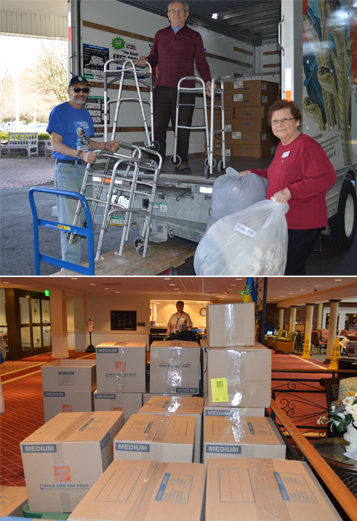 Korzeniowski also delivered generous donation checks to the Ukrainian Federation of America. She collected more than $2,000 in the first few days, "without even asking anyone. They just wanted to help."
"It feels so good. The way this started, it all happened after a prayer service by our chaplain Paul Chaya. I spoke to residents about how to help these poor people who are leaving," Korzeniowski said. "Our Executive Director Paul Nimey jumped on board and Lisa Syms, our Life Engagement Coordinator, set up a table. The donations kept on coming.
"Everyone went to Costco, those big stores, filled their carts with donations," she continued. "One resident took me to her apartment and literally took towels, blankets, soaps, emptied her apartment for the refugees. Very generous."
For Korzeniowski, watching the tragic events unfold in Ukraine has been an emotional experience.
"Can you imagine, just closing your door with one suitcase, carrying your child, saying goodbye to your husband and going through the country and you don't know where you're going to end up? It's unbelievable," she said. "I'm getting texts from friends, their family is still trying to leave. They tried but there was shelling all over, they had to stop and hide. It's just a war zone everywhere."
"It brings back memories, as a child, being in Vienna, coming out of a basement after a bombing and seeing buildings leveled," she added.
Korzeniowski is humbled by the outpouring of support from her Southampton Estates family.