Last year, Terry Alburger, the Life Engagement Coordinator at Brittany Pointe Estates, was asked by the UK-based Society of Teachers of Speech & Drama (STSD) to write an article about her incredible work with the community's theater department. The article, published in the group's bi-annual magazine, Word Matters, provides wonderful insight into the Lansdale, PA, community's popular Song & Dance Troupe, which has been flourishing for eight years.
Here's a copy:

Theater - The Fountain of Youth

By Terry Alburger
In the course of my profession as Life Engagement Coordinator at a retirement community, one might assume I plan events such as bingo or knitting circles. This could not be further from the truth. The fine residents of Brittany Pointe Estates, a Continuing Care Retirement Community in Lansdale, Pennsylvania, are perhaps the 'youngest' people I have the privilege to know. The best example of this fact is the theater departments. Yes, that is plural. We proudly boast two; one of which, the Song & Dance Troupe, falls under my jurisdiction.
The community that is Brittany Pointe Estates is a large one, complete with 283 independent living apartments, 40 assisted living apartments and also a 92-room skilled nursing area. The total population of our community varies, obviously, but suffice it to say, there are over 500 residents in the independent living areas.
The Song & Dance Troupe began eight years ago, as a talent show of sorts. Several residents combined their efforts to seek out some talented people and together they put on an hour-long show for their fellow residents. This consisted of a series of musical acts, instrumentalists and vocalists. Thus the Song & Dance Troupe was born.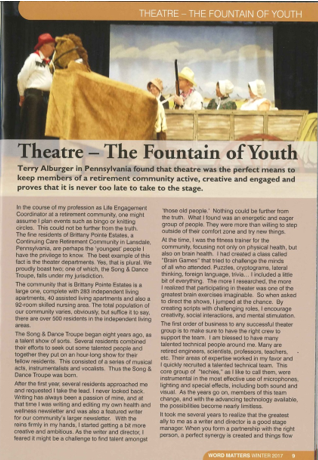 After the first year, several residents approached me and requested I take the lead. I never looked back. Writing has always been a passion of mine, and at that time I was writing and editing my own health and wellness newsletter and was also a featured writer for our community's larger newsletter. With the reins firmly in my hands, I started getting a bit more creative and ambitious. As the writer and director, I feared it might be a challenge to find talent amongst 'those old people.' Nothing could be further from the truth. What I found was an energetic and eager group of people. They were more than willing to step outside of their comfort zone and try new things.
At the time, I was the fitness trainer for the community, focusing not only on physical health, but also on brain health. I had created a class called "Brain Games" that tried to challenge the minds of all who attended. Puzzles, cryptograms, lateral thinking, foreign language, trivia… I included a little bit of everything. The more I researched, the more I realized that participating in theater was one of the greatest brain exercises imaginable. So when asked to direct the shows, I jumped at the chance. By creating scripts with challenging roles, I encourage creativity, social interactions, and mental stimulation.
The first order of business to any successful theater group is to make sure to have the right crew to support the team. I am blessed to have many talented technical people around me. Many are retired engineers, scientists, professors, teachers, etc. Their areas of expertise worked in my favor and I quickly recruited a talented technical team. This core group of "techies," as I like to call them, were instrumental in the most effective use of microphones, lighting and special effects, including both sound and visual. As the years go on, members of this team change, and with the advancing technology available, the possibilities become nearly limitless.
It took me several years to realize that the greatest ally to me as a writer and director is a good stage manager. When you form a partnership with the right person, a perfect synergy is created and things flow like clockwork. It was not until my third show that I found this person. A good director knows how to delegate and, for me, it is crucial to have someone on whom I can rely fully. She has become my right hand, my organizer and the glue that holds the cast together in cohesion.
Another crucial component of a successful theater group, of any age, is a good stage crew. Stage hands with the right person in charge can make or break a show. This crew should consist of just enough people to get the job done efficiently, and no more. We have had shows where 
there were too many people backstage, many with no idea what to do. More is not better when it comes to effective theater productions. We live and we learn and each show is a stepping stone to improved methodology.
Having a solid team behind us, my stage manager and I proceed with the task of creating an innovative show each year. Our theater season begins in January when we call our four co-directors in to closed-door brainstorming sessions. Interestingly enough, the age range of my creative team is between 65 and 85 years old. I have found that working with people of varying ages leads to many perspectives and ideas which I would not normally consider. Life experiences offer paradigms of which I was unaware. The blend of these ideas and perspectives is what gives us a captivating and entertaining product.
And so it begins. Our first task is to choose a theme. While this sounds easy, it is a painstaking process. We perform one show per year and we try hard to make it the best possible. As writer/director, I have final say on decisions regarding subject matter but I take each and every suggestion under advisement. I believe what makes our crew so successful is the great respect we have for each other. I am not their dictator, but rather their leader.
Once we have a theme, we discuss what kinds of acts we would like to include. We normally have between fifteen and twenty acts in a typical show. These acts are strung together by what I refer to as "threads" that serve to give flow to our show. My team and I meet regularly during this time period, usually twice a month at first, and of course, we keep email conversations going at all times to keep the flow of ideas fresh. For me, this time of creativity is most rewarding. Together, we build a show that we think will be a hit. I refer to this group of co-directors as my think tank. Aptly named.
From the minds of seniors come some amazing ideas. They epitomize creativity. Creativity can be defined as the ability to think outside of the box. This is perhaps what I love the most in working with this age group. They are not afraid to try new things, to stretch the limits of their comfort zones and to throw themselves wholeheartedly into the show with a level of dedication that is unprecedented.
As the creation of a script takes place, we determine what props we will need for the show. We have a team of prop builders that is second to none. They are led by a resident artist who creates whatever we ask of him, no matter how far-fetched. To his credit to date: A six-foot tall cylindrical time machine named STEVE (Supra-temporal vehicle), a seventeen-foot-long bus, a nineteen-foot-long airplane, the Fountain of Youth and the stone archway entering the Fountain of Youth park, a train large enough for four rows of seats, the list goes on and on. He also paints nine foot by five foot scenery panels we request. We even asked for a scene of Las Vegas casinos at night, done in neon paint that would glow in black light. His scenery is so impressive that I kept one nine by five foot panel of a desert at dusk and hung it on my living room wall.
So you see, having the right people on board makes all the difference. Delegation based on the areas of expertise – this is something I have learned as a director. Find talent, encourage it and embrace it. We all have our strengths – discovering who possesses which talent is the key.
After approximately three months of writing and brainstorming, we hold our open casting call for the residents of our community. I say "open" because that is our all-inclusive policy. I believe that anyone who wants to participate in a show should have that opportunity. I encourage residents to come to me with ideas for acts. If, for whatever reason, we cannot use their idea, they still have the option to be part of our chorus, which I build into each show. The chorus usually has four or five songs in each show, including the finale. No one is turned away and everyone feels a part of the theater family.
Our chorus is led by a musical director, a very talented resident who is also the piano accompanist. We have many talented musicians who accompany each musical act and lend their vocal talents as well.
During the casting call, we announce the show's theme and we list the roles that we want to fill. Out of twenty acts, we earmark perhaps twelve or so, leaving seven or eight open for resident recommendations. As always, the final decision rests with me but my team makes recommendations. Once the final roster is made and announced, the residents embrace the roles they take on and make them their own.
Once I have the final list of acts, I complete the actual script based on our theme and juxtaposition of acts. This process takes a few weeks to finalize, usually just in time for rehearsals to start in May. It is an incredible feeling to hear your script come to life as residents add personality to your words. I encourage improvisation and for my cast to make the characters their own. Some of the greatest lines in my shows were added by the actors themselves. After four months, it's show time.
We do not charge for tickets, but rather distribute them over several days. We have two nights of performances, and capacity is approximately 250 people in our auditorium. So each show entertains 500 people, give or take a few. We also stream our performances live to the residents in our assisted living and skilled nursing areas for those who perhaps cannot get to the auditorium unassisted.
Our latest show was performed just last week and was met with a standing ovation both nights. The cast and crew were near perfect. The friendships and relationships formed as a result of the shows is another perk. Several of the musicians had so much fun performing together that they formed a swing band and now play at venues throughout our area. I treasure each and every theater family that I have the privilege to lead each year.
We have had some interesting and challenging story lines over the years. In "Almost Pair 'O Dice," we had two Brittany Pointe residents out for a stroll, who came across a hidden time machine in a basement room. While exploring, the radium-powered watch of one of the residents spurred the time machine to turn on. Special effects included a fog machine, eerie music and black lights for creepy lighting. The machine was stuck on the Las Vegas setting, but the time setting sent them to many different time periods, including the mid 1800's when Las Vegas was first declared a town, and also into the future where our dance team performed an "anti-gravity dance." The show proceeded as our heroes tried to get back home, to their own time. They bounced around in time for quite a while until they finally got it right – and ended up back in the current time, onstage in front of the audience… with an unexpected stowaway in the time machine – Liberace! This whimsical and fun story line was hugely challenging and truly a great and entertaining show.
In another show called "Youthful Acts," we had a team of two narrators, but all narration was done in verse, in the style similar to Dr. Seuss. A couple found the real Fountain of Youth while on vacation and drank from it. Each act had them getting younger and younger. Make-up and wardrobe was essential in this show to take the years off of our actors.
Theater is addicting in a wonderful way at any age. It keeps your mind sharp, focused and challenged. I have also observed that members of a theater family help each other, advise each other, and support each other. They take it upon themselves to rehearse each day, and dedicate themselves to the show. The result? Happy cast, happy crew, happy audience. And happy director.