By Terry Alburger, Life Engagement Coordinator
Several short weeks ago, we were surrounded by dissention, violence and intolerance. One group's beliefs offended another's; that state's statue offended a particular demographic; that particular memorial offended someone else's ethnicity. It seemed there was no tolerance for diversity, and as a result, we saw violence. Law enforcement had its hands full in many different cities across the United States. It was indeed a sad state of affairs. I personally had a hard time watching the news. As a naturalized U.S. citizen since age 13, I was raised to embrace diversity and those who fought so hard, right or wrong, for what they believed. But suddenly, that didn't matter. "That offends me. Tear it down. Change it."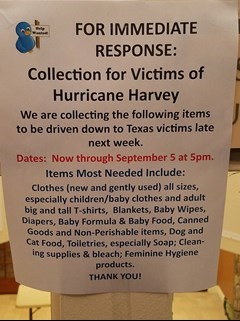 But then something amazing happened. Hurricane Harvey. It hit Texas with a vengeance. Then, Hurricane Irma. The rest of the country watched in horror as entire towns disappeared under flood waters. Then suddenly, nothing else mattered. Petty differences were put aside as everyone clamored to help. No one stopped to ask anyone's political party, sexual preference, religious beliefs or anything else. It was human being helping human being. And in the midst of the heartbreak, fear and loss emerged stories of heroism, valor and greatness from virtually everywhere. Little kids were selling lemonade to make money for the victims; celebrities and the general population alike gave generously and united in this cause; private citizens arranged relief trucks, filled by thousands of people, and drove them thousands of miles; even communities such as Brittany Pointe Estates held drives to collect food, pet food, cleaning supplies, diapers, wipes, toiletries and clothing for the many now-homeless survivors; lines of people in pickup trucks towing boats made their way to Texas to help with water rescues of people stranded on their rooftops, in cars, in flooded nursing homes; and the list goes on and on. In the pain of human suffering emerged a feeling of unity and a spirit of generosity that had been all but absent until Harvey hit.
The American spirit shone through the clouds of the storm. We are one. E pluribus unum. Out of many, one. We returned to a state of loving our neighbors. We survived the storm and will continue to do so in the future. In the long recovery process, we will continue to "have their backs."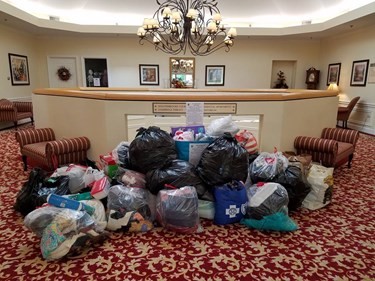 It is my sincere hope that we can remember and cherish this feeling of compassion toward our neighbors and embrace and respect our right to differ from one another. If we can do this, it will help make this great country so much more peaceful. While it is hard to see images of the devastation in Texas and those affected in the wake of Hurricane Irma and all those who will follow in subsequent storms, it does make one proud to see how, when the chips are down, we do stand united. As President Abraham Lincoln said so many years ago, "A house divided against itself cannot stand." These words, which he took from the New Testament (Mark: 3:25), still hold true today, though the specific issues are different. The goal is peaceful coexistence. Perhaps next time, it won't take a catastrophe to realize that we can all get along no matter how we feel about the marble images around us or the lifestyles of others. Peace. What a noble goal.
Terry Alburger is the Life Engagement Coordinator at Brittany Pointe Estates, an Acts Retirement-Life Community in Lansdale, Pennsylvania. This column was published online by Montgomery Media on September 13, 2017.