Residents of Brittany Pointe Estates are being called "guardian angels" for helping hospitalized premature babies in critical need of comfort in their first days of life.
The "Brittany Ladies" knitting club jumped on a call to crochet dozens of cuddly octopuses, much needed for the youngest patients of St. Christopher's Hospital for Children in Philadelphia. "These ladies are angels to the tiniest patients in NICU. It's a perfect coupling," said Terry Alburger, the life enrichment coordinator at Brittany Pointe Estates.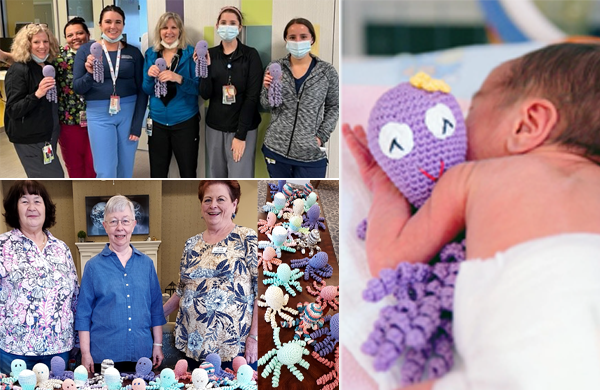 "It's so exciting that the need is for the very youngest and the answer to that need is by the very oldest. Pretty special and I'm happy to be a part of it," said Pat Miles, a resident of the Lansdale, Pennsylvania retirement community. 
Pat's daughter-in-law, who works at the hospital as an ICU nurse, came to her for help in crocheting the soft, colorful octopuses. In less than two weeks, the Brittany Ladies lovingly took up their crochet hooks and delivered 26 octopuses.
"The octopus, or 'octopal' as it is sometimes called, acts as a calming influence for the babies - the tentacles replicate the umbilical cord, which the babies hold onto in the womb," Pat explained. "With the tentacles to hold onto, the babies are less likely to pull out life-saving tubes and essential monitoring equipment cords attached to their bodies."
Octopuses for Preemies is a global movement that began in Denmark and then expanded to Spain, Ukraine, Poland and the United Kingdom. Nurses at St. Christopher's Hospital for Children requested purple octopuses to match festivities for the hospital's spirit week. Residents delivered dozens of purple ones and couldn't resist a few colorful options which were all welcomed with open arms.
The Brittany Ladies also volunteered to crochet and deliver more octopus loveys each month to allow for turnover of new babies admitted to ICU.
"It makes me so proud to be part of a community such as ours. We see time and time again how regularly people here respond to the plea for help, be it large or small," Pat said. "These octopuses are small things, but they play such a large part in the healing process of the babies."