We are happy to share that The Evergreens, an Acts affiliate community in Moorestown, New Jersey, has received a positive assessment of its financial health from Fitch Ratings, one of the nation's leading financial rating agencies. The Evergreens received a 'BBB' credit rating with an outlook of stable, placing it among the highest quality of retirement communities nationwide that are rated by Fitch for financial health and stability.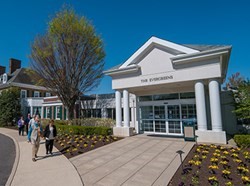 According to Fitch, the positive assessment of The Evergreens reflects the benefits realized from its affiliation with Acts Retirement-Life Communities (revenue bonds rated 'A-'), resulting in improved operating performance and a favorable long-term outlook of financial stability.
In 2018, The Evergreens completed an affiliation agreement with Acts, which assumed management and operation of the community. The Evergreens is home to approximately 225 residents and is among only a small percentage of CCRCs nationwide that is accredited for meeting the industry's highest standards in governance, financial viability, quality of life, and resident care. 
For more information about The Evergreens please visit: www.ActsTheEvergreens.org. You can read the Fitch press release here.