Bayleigh Chase and Heron Point of Chestertown, two Acts-Retirement Life Communities in Maryland, have fully embraced a new era of fitness with the flexibility and endless possibilities of virtual classes.
While COVID-19 forced the shutdown of fitness centers and gyms across the country, these retirement communities have increased their fitness classes and offered new programs to meet the demands of active residents. In fact, despite statewide "stay at home" orders, more seniors than ever before have participated in fitness classes.
"Many residents are participating who never came to classes in the past," said Susan Covey, the fitness director at Bayleigh Chase in Easton, Maryland. "We host about eight classes on our in-house TV channel and residents would like to see us continue that option."
"There's a little something for everyone," said Lori Bachman, the fitness director at Heron Point of Chestertown in Chestertown, Maryland. "Being able to share classes with other instructors across the east coast, residents can take advantage of new options like boxing." Bachman also offers home exercise challenges and brain fitness challenges.
Bayleigh Chase is starting a new class, "Spring Training-Exercises for Gardeners." The exercises use movements to help residents strengthen muscles used when gardening. Covey also holds classes including stretch and tone, posture and Pilates. "We also have at least one group outdoor walk a week," said Covey.
With recorded workouts, residents have the flexibility to attend when they want and dressed how they want, without being judged by their peers.
"I prefer to workout on my own in my apartment. I tend to falter a bit because of my balance," said Vee Holt, a resident of Heron Point. "If I came to the actual class I would always be a little behind everyone else."
"I tape the classes to exercise on my own time," said Heron Point resident Judy Hammer, "I like to sleep later and would not attend a morning class."
"I can work out in my pajamas if I want and no one knows," she added.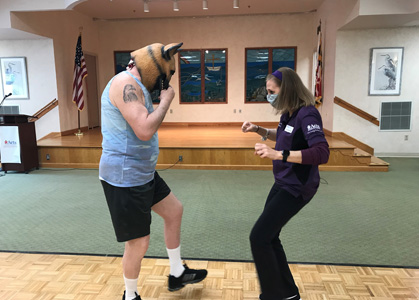 Fitness staff has loaned hand weights, balls and exercise bands to residents, and some instructors incorporate household items in their classes to help residents who don't have gym equipment. Bachman gives residents an impactful workout with soup cans in her virtual weight training class.
With virtual classes, the fitness staff can also shake up the workout with fun surprises.
"One day, I had someone dressed up in a dog mask and suddenly jump in with me to do aerobics," said Bachman, "On Memorial Day, I set up a beach scene behind me, with the sound of waves to stimulate exercising on the beach."