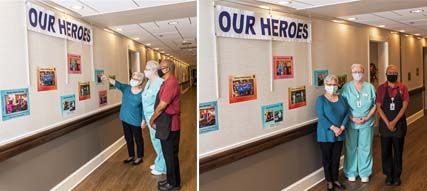 Residents of Heron Point of Chestertown created a beautiful photo gallery as a tribute to employees during the pandemic.
Since large groups cannot assemble during COVID-19, Heron Point of Chestertown replaced its annual Employee Appreciation celebration with a photo exhibit to express its residents' heartfelt thanks. 
"We're delighted with the creative solution our residents have found to express their thanks," said Garret Falcone, Executive Director of Heron Point of Chestertown. "Our employees are highly valued members of our Heron Point family."
All 36 photographs in the exhibit were taken by John Guthrie, a Heron Point resident and accomplished photographer. Banners proclaiming 'Our Heroes' are displayed at each end of the gallery.
Photographs of employees are grouped by department and displayed in the first floor art gallery of the River House, the community's main building. "Most Heron Point residents traverse the long hallway at least once each day, often pausing to enjoy the rotating art exhibits," said resident Susan Kline, co-chair of a resident committee for the Employee Appreciation observance. She along with Stacey Guthrie, chair of the resident committee organized the photo display.
Before the pandemic, an annual celebration included a reception that gave residents an opportunity to thank the employees in person for their service. Each employee also received a gift from a dedicated fund established by residents.
This year, gifts will be sent to employees by mail along with a letter of appreciation. The letter reads in part, "During this time when COVID-19 has been devastating our world, you have supported us as never before and kept us safe. The enclosed gift expresses our thanks to the wonderful staff that has given us so much."