Dozens of gardeners at Fairhaven, an Acts-Retirement Life Community, donated almost 300 pounds of vegetables to those in need during the pandemic. They set up a stand to give tomatoes, zucchini, cucumbers, squash and other vegetables to families at the historic Sykesville schoolhouse.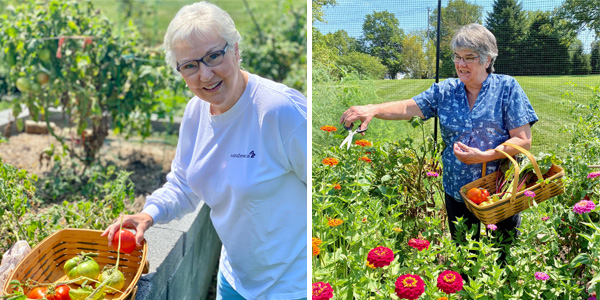 "At least two residents volunteer tutoring children at the schoolhouse or helping them with homework. When the pandemic hit, a volunteer suggested taking our extra veggies over there to hand out," said Sue Aldape, a resident and master gardener. "There's a lot of volunteering here at Fairhaven."
The group also donates produce to the Howard County Food Bank. Fairhaven, a beautiful community on 300 acres of woodlands, has 74 ground level plots and 20 raised beds. There are 34 resident gardeners, about six of them joined the group in recent months. Residents enjoy venturing to the gardens to relax and give back during the pandemic.
"Being able to garden and donating our produce, it gives you a sense of purpose in your daily life. When you work, you look forward to retiring, but then when you retire, you think, 'I need to do something.' Gardening makes you feel like you have a purpose," said Aldape. 
"So far we have donated over 250 pounds of vegetables," said Dale Bucks, a resident who oversees the gardening group. "Now that we're into the later part of tomato season, transitioning to fall vegetables, we will come close to doubling that by the end of the year."
During COVID-19, Bucks organized a washing table with hand sanitizer and paper towels. The gardens are so large that residents have plenty of space to socialize at six feet apart. The interaction with friends and Mother Nature is good for their soul.
"This has saved my mental health," said Aldape. "I love being outside, pulling out weeds and dig up dirt, it relieves you of any worries and concerns. It's just like exercise, you feel better."