Experts: Market Trends Make This the Best Time to Get In
On the fence about whether to sell your home and capitalize on the hot real estate market? Experts urge you to jump in before it's too late! The average 30-year fixed mortgage interest rates surged from 3.2% to 6.38% in the past six months, but the housing demand remains high nationwide. To get more cash for your home, experts agree this is the optimal time to sell.
"The housing market continues to be strong with average home values up more than ten percent since last year, but almost three percent lower than it was this summer," said Maureen Longoria, co-founder & CEO of LivNow Relocation, who has over 25 years of experience in corporate relocation, real estate and logistics. "The median sales prices are slightly down, 403,800 in July [instead of $416,000 in June] but still up more than 10 percent from last year."
No homes are free. Check out our article on the cost of home ownership.
Economists at the Federal National Mortgage Association believe mortgage rates have peaked and will trend downward into next year. In its July forecast, economists at the Mortgage Bankers Association predicted a similar pullback in mortgage rates.
"Many of us remember when mortgage rates were above ten percent and fear we're heading in that direction again, but this is not what the experts are predicting," said Kathy Givigliano, realtor at Compass Real Estate in Philadelphia.
Home Sales in the Northeast
While the housing market is slightly cooling, inventory is still historically low in most of the northeast. It's not likely to last forever.
"Delaware is beginning to see an uptick in new listings which is the first I've seen in this region," said Givigliano.
Real estate and relocation industry experts who spoke in an online panel hosted by Acts Retirement-Life Communities agreed the bidding mania, cash offers, and homes bought sight unseen is less common nowadays. Givigliano says while the northeast housing market is "normalizing," sellers are still enjoying the upper hand.
"We're seeing a slow comeback in inspections. Multiple offers are still happening, but we're not getting 20 offers at a time. Maybe four or five offers if the property is priced appropriately," Givigliano said.
"Another indicator of a very strong market is the number of homes selling in less than a month.  Currently, the majority, 88 percent, sell in less than 30 days," she added. This is significant compared to ten years ago when only one in four homes sold that quickly.
Discover our communities in the Northeast!
The Southeast Housing Boom
In the Charlotte, North Carolina area, a home typically spends an average of four days on the market with most sellers receiving above asking price.
"Homes priced in the $250-400,000 price range are still getting some multiple offers," said Kristen Armstrong, relocation manager at Dickens Mitchener in Charlotte. "Prices are climbing but it's not like two years ago with some homes going for well over $100,000 higher than asking price. Realtors are starting to negotiate repair requests again where they haven't in the past with multiple offers."
In the Southeast region, multiple offers are also slowing down as inventory begins to increase. In Boca Raton, Florida, home prices prices soared from an average $630,000 for a single family home in 2021 to an average $835,000 in 2022.
"We've seen a little bump in inventory which means it's a great time to start selling," said Denise Talboy, Vice President of Global Relocation and Corporate Services at The Keyes Company Realtors in Palm Beach Gardens. "Although mortgage rates are higher, it's still very low for those who bought property 20 years ago.
"We're seeing buyers jump back in the market when they were not interested a few years ago," she added.
More good news for sellers, despite the biding wars and rising home values, foreclosures and short sales presently account for less than one percent of the market compared to the steep 50 percent in 2008 when the housing market crashed.
Discover our Southeast campuses!
Ways to Get a Bigger Return
Some insights worth noting for homeowners interested in taking advantage of the market as remote work continues to influence trends:
85% of buyers are purchasing homes outside metropolitan cities
34% of buyers want work-from-home features like home office space
44% value energy efficiency features & move-in ready property 
Will remodeling make an impact in today's market? Here's a look at what remodeling projects will pay off: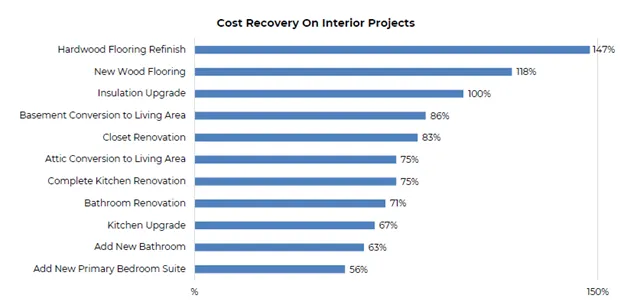 According to the National Association of Realtors, refinishing hardwood floors is the most profitable and should provide a 147% return on your investment; new wood flooring would bring 118% return on your investment.
"Insulation upgrades speak to the energy efficiency millennial buyers are looking for," said Maureen Longoria, co-founder & CEO of LivNow Relocation. "Having a basement space that can be transformed into additional living space is also appealing.
"Surprisingly, adding a new bathroom or renovating it, will not provide a good return on your investment; same goes for kitchen renovations," Longoria said.
Longoria also recommended choosing a realtor who may use digital technology to virtually stage your home or take aerial video to showcase your property.
"A lot has changed in real estates thanks to technology and the pandemic," Longoria said.  "Top-producing realtors will invest in marketing that includes staging, professional photographers, drone footage and social media."
Why Else Should You Move? This Video Will Help.