Excitement is building at Bayleigh Chase for the big reveal of the second part of its extensive multi-million renovation project which includes a new front entrance and welcome house, along with modernized culinary and entertainment venues.
As part of the Acts Retirement-Life Communities family of continuing care retirement communities, this Easton, Maryland location is remodeling its clubhouse to include a new restaurant and auditorium with new areas for residents to socialize and experience live entertainment.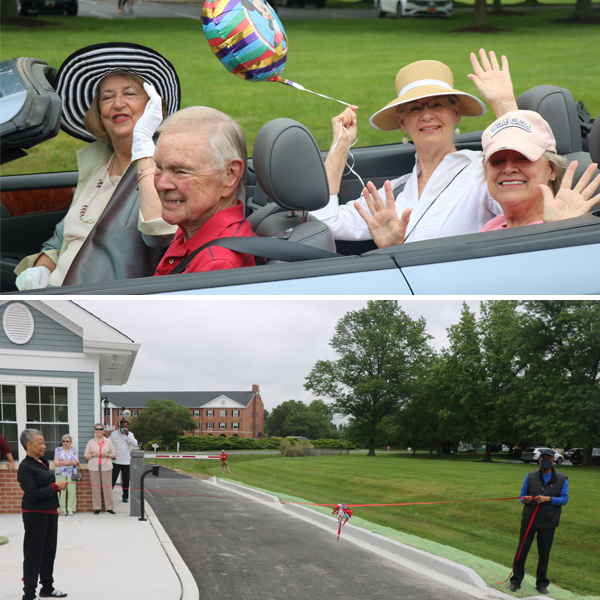 "This is an exciting time to be at Bayleigh Chase. We continue to transform our community into an increasingly active, vibrant place where mature adults live and grow," said George Clemes, Executive Director. "With our recent and future renovations, as well as a diverse range of engagement opportunities, Bayleigh Chase is meeting the needs of many who are seeking a meaningful and enjoyable lifestyle."
In the next phase of renovations, residents will enjoy a brand-new clubroom and billiards room, a $2.3 million dollar project which is expected to be completed by late summer. The final phase will include a new bistro which will be a casual dining venue, fitness and weight rooms, a state-of-the-art rehabilitation center, and a health and wellness suite with an office for its full-time nurse practitioner.
"With all these new amenities, now is the perfect time to join our Future Residents Club," said Sherri Brown, the community's sales manager. "Members get priority access to events, can use our fitness areas, participate in events, activities and trips, even stay overnight in our guest suite."
"It's almost like test-driving the community. Club members have first priority in selecting their new home when one becomes available. It's a way to stay in the front of the line," she added.
The community's luxurious and spacious 3,000 square-foot villas and one-and-two bedroom cottages are the most popular among Baby Boomers and active retirees. "Some floor plans have a long wait right now, and we're encouraging people to join the Future Residents Club. If your name comes up, you get first right to refusal," Brown said. The popular villas have about a 3-5 year wait. "You'll want your name on the list."
Living at Bayleigh Chase also has financial advantages because of its unique access to a continuum of care, like assisted living and skilled nursing, if it's ever needed. As a continuing care retirement community, with award-wining healthcare services, residents protect their nest egg with predictable monthly rates that do not increase solely based on the level of care.  And as part of Acts Retirement-Life Communities, Bayleigh Chase is a member of the most trusted name in quality continuing care, with 50 years of serving the retirement and health care needs of active seniors throughout its network of 27 campuses in nine states.
Call (888) 807-4036 to learn more about the exciting renovations that will transform Bayleigh Chase.