Chef Jose Zuluaga of St. Andrews Estates bids farewell to summer by treating residents to a refreshing Watermelon Salad and Pesto Chicken Panini, part of his very popular cooking demonstration series. Residents enjoy these monthly events, to gather in each other's company while learning about creating a variety of different dishes like those prepared at St. Andrews Estates. The salad consists of a sweet and savory combination of watermelon, feta cheese, balsamic vinegar, and pistachios, which compliments the Pesto Chicken Panini, topped with roasted peppers and Swiss cheese.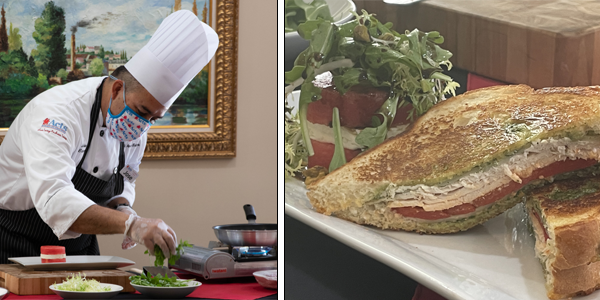 St. Andrews Estates is known for its exclusive, nationally acclaimed dining experience, professionally trained chefs and deliciously enticing dinners and desserts that rival some of the best restaurants in Boca Raton, Florida.
Mouth-watering entrees are prepared fresh daily and include the likes of grilled Atlantic salmon with homemade salsa and veal piccata with seasonal vegetables. The community has received numerous awards, including the 2020 Senior Dining Association for Excellence in Presentation.
"We customize everything we can and we have a cook-to-order philosophy which creates wholesome and nutritious meals for our residents," said Virginia Ohanian, Director of Culinary and Nutrition Services at St. Andrews Estates' north campus. "Residents also have access to a variety of dining venues including private dining for intimate gatherings and bistros with convenient to-go options."
Schedule your personal tour of St. Andrews Estates and join us to sample the delicious entrees and desserts offered. Enjoy this tasty end-of-summer recipe!
Watermelon Salad Recipe
Ingredients:
8 oz. whole feta cheese (cut into four smaller squares or rounds)
½ large watermelon (cut ¾ in thick in 8 rounds or squares to match the size of cheese)
2 cups arugula
½ cup balsamic vinegar
¼ cup olive oil
¼ cup chopped pistachios
Salt & pepper to taste
Place balsamic vinegar in small saucepan and cook on medium heat and bring to a boil and reduce to a simmer until thickened about five minutes with a similar texture as syrup. Let cool.
Toss arugula with one or two teaspoons of olive oil. Season with salt and pepper. Set aside.
Put a piece of watermelon cut into a square or rounds on a platter and top with feta cheese, then place another piece of watermelon on top. Put ½ cup arugula on top of watermelon and drizzle with balsamic vinegar. Top with chopped pistachios.