Catching up with Boca Pointe residents who moved to Edgewater at Boca Pointe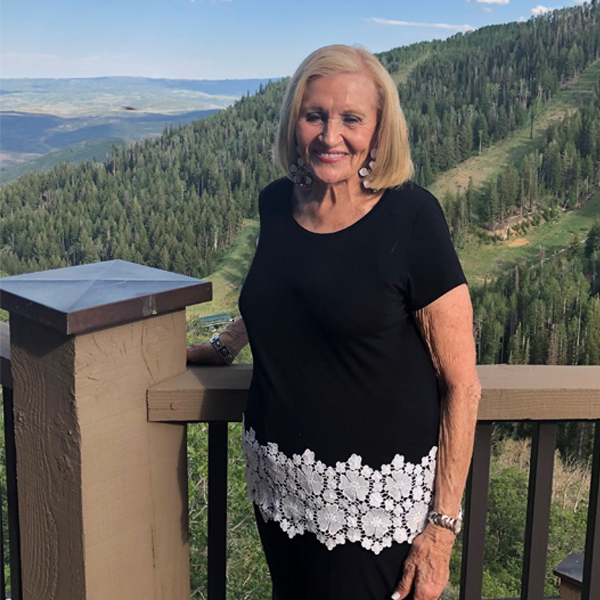 "I'm happier than I ever thought I'd be," said Ruth Axman who moved into her beautifully renovated two-bedroom Edgewater at Boca Pointe apartment in February. Ruth used to live in the Costa Del Sol subdivision of Boca Pointe Country Club.
We caught up with Ruth to ask her what it was like to move to Edgewater at Boca Pointe and what she's up to now.
Q: Why did you move in?
Ruth: I had a four-bedroom apartment at Boca Pointe, and my appliances started getting old, needing to be repaired or replaced. I didn't need a four-bedroom living alone and I thought, at my age, why move and move again? My son and grandson came with me to tour Edgewater at Boca Pointe. My son was really pleased. You can feel the friendly atmosphere the moment you walk in. The staff is very, very accommodating. I made up my mind rather quickly, this was going to be my next move and I couldn't be happier.
Q: Describe what life is like at your new community. What do you enjoy?
Ruth: I met very lovely people and I have the nicest neighbors. There are so many activities! I go to exercise classes and yoga every morning. That is how I start my day and it makes me feel good! I'm going on a trip in June to the west coast of Florida for two days. There's always something going on and everyone is very welcoming. We had a wonderful Passover Seder here which I was so surprised by how lovely it was!  The Rabbi preformed a beautiful ceremony, fresh flowers decorated the table and the food was delicious!
I'm staying healthy, much more relaxed, not tense. I feel like I'm living in a hotel. I get dressed at night and go down to dinner being served, it's so wonderful. I didn't even want an oven in my new kitchen because I don't want to cook anymore. I used to love to cook but you know what? That's behind me now. I want to be served!
Q: Tell us about your new apartment and the move-in experience?
Ruth: My apartment is lovely and has a great view. It's always very sunny and brigh and everything is brand-new which I loved! I'm happier than I ever thought I'd be. Honestly, I never thought I'd come to a place like this. I imagined myself staying in my house forever. Now I'm confident if anything should happen to me, I'll be taken care of.
The Edgewater staff is very accommodating to every need! The maintenance workers hung all my pictures and TVs, everything is really done for you. He was terrific, very patient and did everything on my list. You have access to a storage unit in another area outside of your apartment to store anything there that you don't want to keep in your apartment. My home office isn't completed yet. I'm still having that set up, so when that's finished, I'll bring in my office things in from storage.
Q: How did your family members feel now that you've moved in?
Ruth: My son who toured Edgewater at Boca Pointe with me was very impressed by the cleanliness and friendliness. My children were always worried about me being alone in a big house. They all live far away.  Now they have peace of mind and they're very happy I'm happy here!
Q: Do you have any advice as a new resident of Edgewater at Boca Pointe?
I didn't realize until I moved in all the perks of living at this retirement community! Little by little you learn. There is a nurse practitioner onsite at the community, if you cut yourself, have a minor injury or feel sick. I'm very independent and have my own car, because I like to meet my friends in Boca Pointe or go shopping, but you don't need a car here. Edgewater provides transportation to doctors, the supermarket, and stores. It's a wonderful thing. I'm very happy living here.