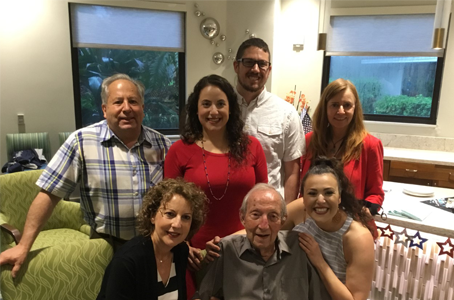 A Korean War veteran living at Edgewater at Boca Pointe, an Acts community in Boca Raton, Florida, was honored for his heroic service to our nation.
Resident Leslie "Les" Tye, 92, served as a first lieutenant during the Korean War in the 714th Tank Battalion of the 82nd Airbourne Division. He taught armored warfare infantry at Fort McLellan in Alabama and volunteered to be exposed to radiation at a nuclear testing site in Nevada.
State Sen. Tina Polsky visited the retirement community to present Tye with a proclamation for his service and recent honor flight to Washington, D.C. His family and friends attended the ceremony. His proud daughter called Tye her hero and described him as "humble, loving and selfless."
The 92-year-old veteran is in great shape. Family members he "doesn't take one pill" and works out at the gym at Edgewater at Boca Pointe every day.
Watch full coverage from ABC affiliate WPBF-TV here.