Alex Intrator, 96, attends the weight training class at Edgewater at Boca Pointe three days a week.
"I feel much stronger and more confident in myself," the 96-year-old said, "I lost 8-10 pounds since I started taking the class."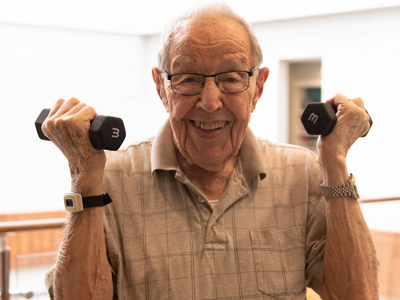 He's among dozens of residents who now believe in the power of weight training at any age. The strength training class first began a few months ago with only four to six people in attendance.
It rapidly grew to about 30-40 people at each class, all with varying fitness levels.
"Just by word of mouth. Residents were surprised by the results. The blood was flowing to their muscles for the first time. It was like eureka for Alex and others to experience the positive changes," said Michael Fries, the community's fitness director and a local body builder.
Fries began at Edgewater at Boca Pointe about three months ago. He worked at private fitness centers, country clubs and resorts. Now he's bringing his "weight lifting, Arnold Schwarzenegger-style" training to senior citizens.
"There are no limitations," insists Fries who inspires people of all abilities to join him on their fitness journey. Three residents who have Parkinson's disease also attend the class. "Their physical therapists come to me and ask, 'what's going on with your classes?' They wonder what we're doing because these residents just love it."
What makes the workout versatile for everyone: dumbbells. "It's age appropriate," said Fries. "It doesn't matter if it's a one-pound dumbbell or three-pound, squishy balls or making a tight fist. I don't care how much you lift. It's about proper form and progressive resistance."
"The only way to get the health benefits of weight training is though weight training," he added, "A band or a ball really doesn't do it."
Fries says his 96-year-old student started with one-pound dumbbells. "Now he's at three pounds and very soon he'll be at five pounds. It shows he's getting stronger."
"I can feel a definition in my thighs and biceps," said Karol Rubenstein, another resident who makes it to nearly every class, "It helps me mentally too, just having the blood flowing in correlation with the weight. I have more energy."
"It's all about staying active. I want to make everyone feel welcome," Fries added, "You got to make it fun for them, too. You win [residents] over with knowledge and sincerity. Letting them know you care."