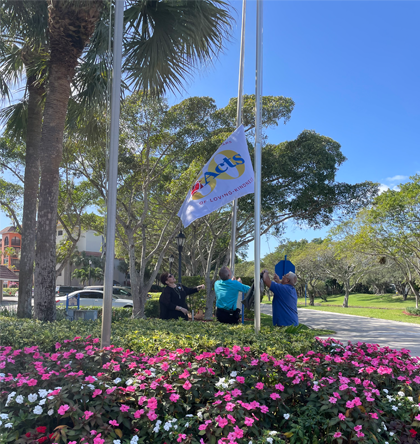 Edgewater at Boca Pointe is celebrating an incredible milestone for its organization, the 50th anniversary of Acts Retirement-Life Communities and its mission to serve seniors. On May 18, Edgewater at Boca Pointe will hold a gala to commemorate Acts' 50 years of Loving-Kindness. 
"It's absolutely fantastic! This organization has been on the map for 50 years and going strong," said Alice Stroh, an Edgewater at Boca Pointe resident who is on the community's gala committee. "It shows the stability of Acts and the confidence for residents to be part of an organization that's been around for half a century."
In the early 1970s, a group of visionary church leaders in Fort Washington, Pennsylvania, opened a retirement community for senior members of their congregation which began the early concept of a life care community where older adults can enjoy an active and purposeful lifestyle with peace of mind for the future. Acts expanded to Florida and built Edgewater at Boca Pointe, then-called Edgewater Pointe Estates, in 1983. Today, Acts has 27 resort-style communities with the added benefit of assisted living and skilled care if it's ever needed.
"Acts has been truly blessed to have served so many over five decades assuring our residents the lifestyle they desire and our staff the opportunity to grow and contribute," said Jefferson Kaighn, Executive Vice President and Chief Administration Officer at Acts Retirement-Life Communities. "Our actions of service, commitment to mission, innovation and philanthropy are testament to the importance and impact of community and a legacy for the future."
About 200 people are expected to attend the celebratory gala at Edgewater on May 18. The event will also support Acts Legacy Foundation with monies raised going towards community enhancements and programming.