This isn't your typical senior citizen water aerobics class.
Seaford, Delaware, residents ages 60 and older thrive in an intense, boot camp-inspired water workout class at Manor House, an Acts Retirement-Life Community. The music pumps up the energy while the instructor calls out reps on his headset. It's positive, engaging and a hugely popular class packed with residents and outside community members.
Unlike fitness classes where participants often dwindle after January, these seniors keep coming back.
"I've been teaching group exercise for 21 years. This is an intense workout, three days a week, but a lot of fun," said Jonathan Souder, Manor House's Fitness Director and class instructor. "Many members come all three days."
"I've always said if it's not fun, they're not coming back," Souder continued. "We're like family; we encourage them. We really push them."
A resident who never misses a pool workout agreed.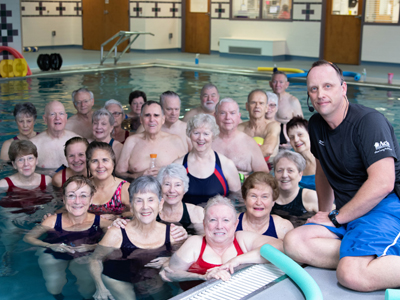 "I love the friendships and it's a challenge to see if I can keep up with it. It's so intense, my swimsuits deteriorate because I go to every class," said Betty DeGrafft. "I'm now on my fourth suit since January! The elastic just dies."
The class also brings in dozens from outside the retirement community, including some who later move in.
"Many are non-residents who pay like a health club to come here and use us as their health club of choice," said Souder. "About 99 active future club residents use the pool. Over the years since 1998, we've had 40 pool non-resident members move into the community."
One is Diane Kern, who started nine years ago as a pool member. She moved into Manor House in 2018 and found it convenient to have the pool just a short walk away. She looks forward to each class.
"We have such great trainers," said Kern. "You get a workout on all the different muscles; they exercise the brain as well.
"You have to be mentally engaged or you're lost," Kern continued. "You'll get run over."
Her fitness trainer agrees about its brain benefits.
"Exercise, moving the blood to the brain, is a big help with dementia," Souder said. "It's like stepping away from work with a walking break, it clears your head.
"Water is also excellent because it's not as hard on your joints," he added. "A lot of people 50 and older are dealing with chronic conditions and the water is a nice area to exercise without hurting themselves."
"It's so good for the knees, hips, and your joints because with osteoarthritis, you need to keep the joints moving," Kern said.
"Stretching and aerobics, it builds up our endurance," said DeGrafft. "It's exhausting but I think we're in better shape now than when we moved here."