Westminster Village's Chef Alan Blair visited the studio kitchen of Fox 10 in Mobile, Alabama to cook his signature Seared Tuna with Creole Honey.
Watch full video of his cooking demonstration here.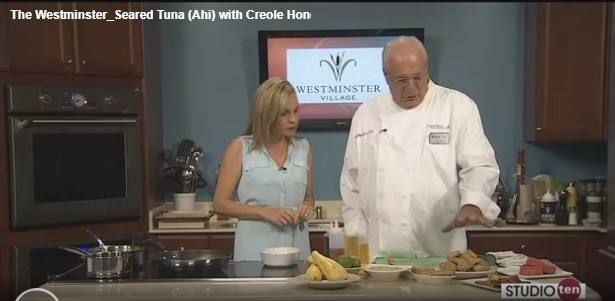 INGREDIENTS:
4 - 6 oz. Tuna Block or Steak
2 Tbs. Creole Mustard
1/2 C White Wine
2 Shallots (medium)
1/2 C Honey
1.25 oz Seasoning (Westminster)
1 C Heavy cream
1 Lime
3 Tbs. Butter
Fingerling potatoes
Yellow Squash
Paprika
Oregano
Cayenne
Salt & Pepper
Extra Virgin Olive Oil
STEPS:
Salt and pepper potatoes and roast at 350 degrees for 35 to 40 minutes (depends on size of fingerling), Slice yellow squash, season with salt and pepper and roast for 15 minutes at 350 degrees.
Cut shallots at bias in even slices.
Add butter to sautee pan, once hot, add shallots, sautee until tender.
Add wine, flame, add creole Mustard, bring to temperature, add cream, reduce, add fresh squeezed lime juice, add honey.
Heat sautee pan add EVOO, season Tuna with paprika, oregano, cayenne and salt and pepper. Sear on all sizes for about 1 minute. Slice Tuna…Place fingerling potatoes on plate, place yellow squash between fingerling, and place sliced tuna around squash, sauce and serve.
About Westminster Village's Chef:
Alan Blair was born in Rome, Italy, and raised among the rich cultural landscape of Western Europe.
He attended the school of Jurisprudence at the University of Rome while working at his uncle's Restaurant L'Angoletto. He continued the pursuit of his culinary interests at The Culinary Institute in Bologna before cutting his teeth in apprenticeships at the Ritz in Paris, under Chef Guy Legay and the Jolly Hotels in Both Rome and Venice.
After coming to the United States to study Business at the University of Oregon, his journeys would continue to carry him around the world, His resume boasts of time spent on tour with Black Cat and MJJ Productions (Janet and Michael Jackson) L'Etoile of Los Angeles, and the Maui Landmark Carelli's on the Beach. He approaches all aspects of life with the kind of passion only an Italian can achieve. Along with his great love for food and wine he has a love for motorcycle touring. He resides in the Fairhope community with his wife Helen and their daughters Emilia and Liliana.