Lobby, Cottage Renovations Applauded by Residents and New Retirees Alike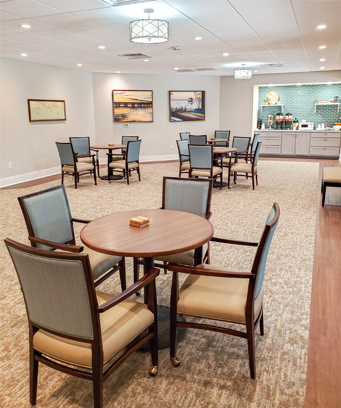 Westminster Village, an Acts Retirement-Life Community in Spanish Fort, Alabama, is showing off a new multi-million dollar makeover. The community has unveiled its new upscale Courtyard Lounge, a beautiful extension of its lobby with a coffee bar, renovated mail room, and wonderful view of the gardens and outdoor fountain area. The new addition has quickly become a popular social hub; residents enjoy the versatile, large venue to meet up for a morning coffee, watch a football game or play cards with friends.
"It's a glamorous spot, new residents just stop in awe," said Ray Clark, a life care consultant at the community. "Residents love to relax in the comfortable sofas and upholstered chairs, enjoy the complimentary pastries and cookies, and meet their neighbors. It's like a beautiful lobby in a five star hotel."
The upgrades are part of a $5 million construction project which includes extensive renovations to the community's 88 single family cottages. Today, more than half of those cottage renovations are complete.
"I've worked at Westminster Village for 17 years and the renovations are just unbelievable," Clark said. "Since the affiliation with Acts about four years ago, you could see a big difference, it's beautiful. Everything is brand new."
In 2017, Acts Retirement-Life Communities, one of the nation's larges providers of senior living housing and services, affiliated with Presbyterian Retirement Corporation, Inc., which owned and operated Westminster Village. Since the affiliation, Acts has substantially invested in the community to modernize the residences and recreation spaces to appeal to the next generation of seniors.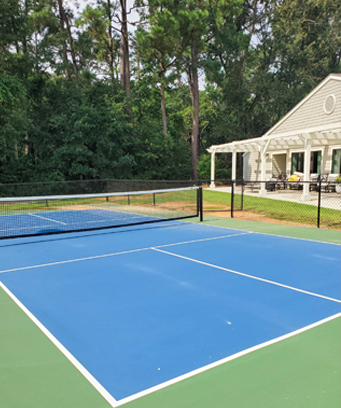 The updated amenities also include a brand new pickleball court, which has become a great addition to the Bayside Club, which opened in late 2020. The spacious new club houses a game room with ping pong and billiards; a card room with a poker table and open seating for private games; multiple covered outdoor patios, shared kitchen, dining and entertaining spaces; wet bar, reading nooks and private lounges. Many residents also enjoy corn hole tournaments in the new recreational areas.
"With many younger retirees now moving in, it's a great meeting place for those residents living in the garden apartments, a closer proximity for parties and get-togethers," said Joy Cross, a resident at Westminster Village. 
Westminster Village also recently won the prestigious 2021 Nappie Award for Best Retirement Community, for its third consecutive year. Winners were voted by readers of the Lagniappe Weekly which covers all of Baldwin and Mobile Counties. Westminster Village is a faith-based, not-for-profit community providing an active lifestyle for seniors while offering a continuum of care.