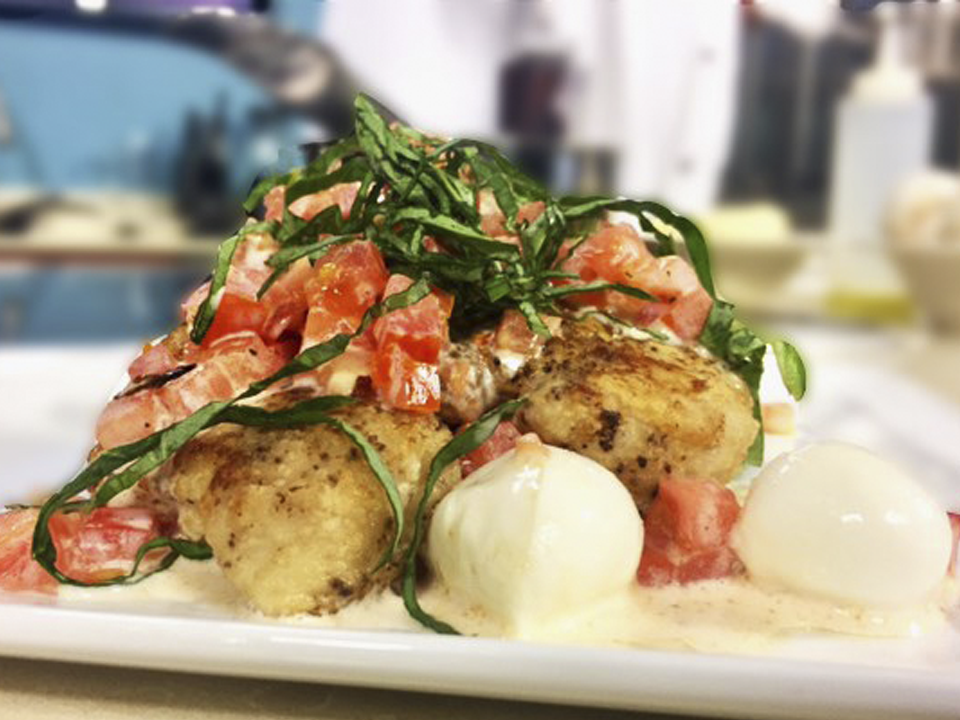 Westminster Village's Chef Alan Blair is back in the kitchen at Fox 10 in Mobile, Alabama. This time he's sharing his delicious recipe for Chicken alla Caprese, an easy and fragrant dish anyone can make at home! 
Watch his full demonstration live from the Fox 10 studio. 
INGREDIENTS:
6 oz. Chicken Breast 
2 Tomatoes
3 oz. Mozzarella
1/2 cup White Wine
2 medium Shallots
2 leaves Basil
4 clovves Roasted Garlic
1/3 cup Heavy Cream
3 Tbsp. Butter
3 Tbsp. Extra Virgin Olive Oil
Salt & Pepper
3 oz. Angel Hair Pasta
2 slices (or 2 oz.) Eggplant
2 oz. Parmesan
DIRECTIONS:
Lightly flour and season (salt & pepper) chicken breast, add butter and olive oil to sauté pan, bring to temperature, sear and saute chicken breast.
Slice eggplant in circles, season (salt & pepper), let the eggplant rest for a few minutes to settle and sweat. Add olive oil to pan and saute eggplant until tender.
Bring water to boil, add angel hair pasta and cook for 4 minutes. Drain and toss in butter and Parmesan.
Caprese sauce: Add butter and olive oil to pan, add minced shallots and diced fresh tomatoes for 2 minutes, deglaze with white wine, add roasted garlic, add cream, reduce. Plate the entrée!