After celebrating her 100th birthday, Marie Gordon, of Westminster Village, jumped on a rowing machine and knocked out 500 arm curls. 
This strong, active resident exemplifies healthy living at her Spanish Fort, Alabama, retirement community. She works out at the fitness center at least three days a week. "I make sure to do at least 500 rows, sometimes I would do 510, it depends on how I feel," Marie said.
When she's not rowing, Marie is a regular at Westminster Village's fitness classes.
"Marie has been coming to my classes since I started 20 years ago," said Amie Birt, the fitness trainer at Westminster Village. "Marie is a role model for everyone, especially for me. For me, knowing Marie keeps going, there is no excuse for not exercising."
"I work my arms using 4 lb. weights. I tell everyone if you want to live to be 100, take Amie's class," Marie said with a laugh. "It makes me feel better and it's an incentive for me to get out and get moving."
"I'm taking a one-a-day vitamin," Marie added. "That's my only medication. I'm in good health considering."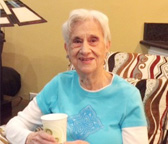 "I've told her I want to be just like her when I grow up," said Marie's friend Joy Cross, also a resident at Westminster Village. "We all admire Marie so much!  Her mind is just as good and sharp as her physical body."
How does Marie stay in such great health? "Keep moving," she said. "You have to keep moving, you just can't sit around all the time." Marie also attends Dr. Bob's Bible class and led the community's line dancing club for years. "Line dancing is great for your mind and body, and a lot more fun than plain exercise," she said.
When she's not rowing or taking classes at the gym, Marie enjoys puzzles, coloring and likes to "keep up with things." She does her own laundry and socializes but said she also feels comfortable being alone: "I can entertain myself."
Living at Westminster Village for more than 20 years, Marie still remembers the first day she visited the community. "When I was looking for somewhere to live, I looked at several places, but there was something in the atmosphere here, and through the years it has remained. It comes from the people who work and live here," said Marie. "The people here, there's just a warmth. That special feeling. They've taken good care of me."
"When I first came to Westminster Village, every time the bus went on a trip, I was on it! I have so much enjoyment living here."