The Right Age for Senior Living
Senior living communities have been around since the time of the dinosaurs, or at least close to it. As a result, there are plenty of preconceived notions that people have about them. This includes the average age of an independent living resident and whether there's a "right time" to move to such a community. 
Having questions around these notions are only natural, which is why we've gathered as many answers as possible in the hopes of dispelling some myths and rumors. Below you'll find plenty of information on things like the age requirement for senior living and other related topics, including why the dinosaurs would be stunned to see today's modern, gorgeous communities.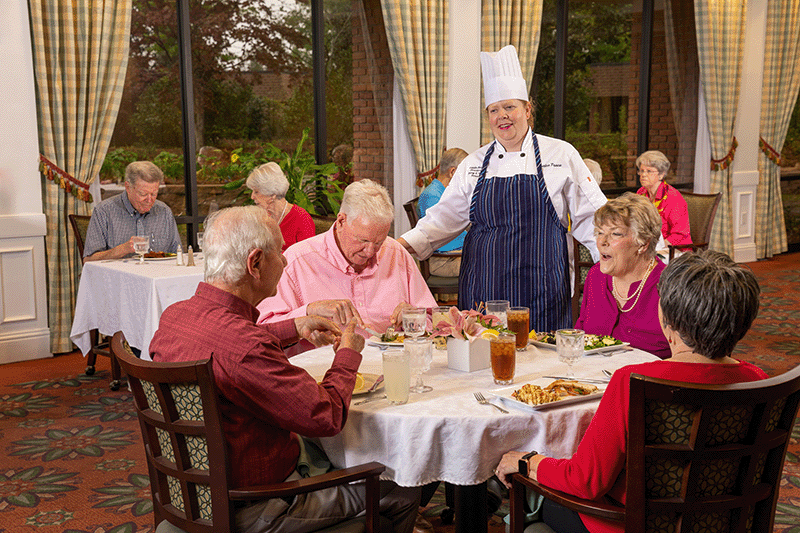 What Is Senior Living Anyway?
Before we begin, the entire concept of "senior living" should be defined clearly so that we're all on the same page. It's also worth noting that many take exception to the term "senior living," but since it's still the most commonly used term, we'll run with it until a more modern term is accepted by the masses. In this context, senior living is a type of residential community that offers specific benefits to those of retirement age. That's right, retirement age — the AARP says you can join their group at age 50, but we say you're closer to retirement before you should be considered ready for "senior living." 
There are any number of reasons why retirees choose to move into a senior living community, from being around people of similar ages and interest levels, to the comfort of having gated security, to reasonable housing costs that factor in access to high-quality amenities and activities.
Senior living arrangements can take many forms. Some are known as independent living communities, which are nearly analogous to any gated neighborhood with the caveat that they are geared towards residents of retirement age (i.e. no unruly teenagers keeping you up at night!). Other senior living arrangements, such as assisted living communities, offer round-the-clock care for older adults who need help with daily living. There are additional senior living communities, called continuing care retirement communities, that adapt to a resident's changing healthcare needs, meaning you can enter as an independent living resident enjoying amenities such as the swimming pool and art gallery, but should you ever need a higher level of care such as assisted living, it is included within the same campus and without an increase in fees.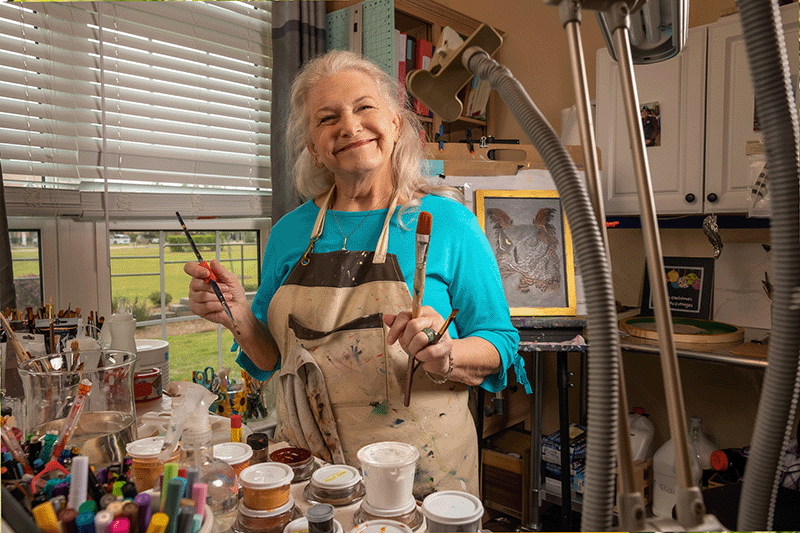 What Age is Senior Living Appropriate?
So when does one become the right age for senior living? What age is senior living considered to be an appropriate option? In many cases, this is straightforward. The minimum retirement age in the United States, for example, is set at 62, which is when you become eligible for benefits such as retirement income and subsidized healthcare through the Medicare program.
However, it's important to note that the earlier you do choose to retire, the benefits you're entitled to are reduced until you reach what the U.S. government has set the "full" retirement age to, which is currently the age of 65. Meanwhile, if you delay retirement past 65, your benefits will increase until the age of 70, which is when they reach their maximum. In other words, retiring and moving to a senior living community from anywhere between the ages of 62 and 70, depending on the community's minimum age requirements, is the closest there is to a definitive answer.
There are increasingly popular neighborhoods known as 55 and over communities, which similar to senior living communities offer access to a neighborhood where every is over a certain age (55, naturally). However, though these neighbors may have a community pool and even a clubhouse, they lack many of the amenities and features of a senior living community, which with the amount of daily activities can often be compared more to a cruise ship without the ocean. For these types of communities it's more common to move around the age of 65.
What's the Best Age to Move into Independent Living?
As there is a range of eight years between the ages of 62 and 70 that seniors can qualify for retirement benefits, there's also no set "best age" to move into independent living. There are dozens of factors at play, and many of these factors are dependent on your own personal circumstances. These can include: 
Your current home and expenses. Owning your own home is a major advantage, but it can also be a major source of expenses. Large family homes that have since become empty nests are often expensive to maintain, and the costs of replacing aging infrastructure like a roof or a boiler add to these costs. Factor in rising utility rates and property taxes, and it's often more financially beneficial to sell your family home and use the proceeds to move into an independent living community and bank the savings into your retirement nest egg.
Your retirement savings. You've likely been saving for years in preparation for retirement, but you may not feel that you have as comfortably large a nest egg as you would like. This may influence your decision to retire and move to independent living, shifting your timeline later. Conversely, if you feel that you're financially prepared to retire slightly earlier, this can move your plans up as well. You should keep in mind that while no mortgage may seem like a great money saver compared to the monthly fees of an independent living community, the community's fees factor other expenses you're likely paying, including TV and internet, property taxes, lawn care, dining, and perhaps even a gym membership.
Your existing support structure. There's much to be said about your social links to friends and family. If you live close to children and grandchildren and you have a close relationship with them, you may be hesitant to move to an independent living community if that makes it challenging to spend time with them. Meanwhile, if you have a group of friends who are all considering a move, you may feel more inclined to follow along to a senior living community together. Also consider that family is always welcome at a community, and can even partake in the fun activities and adventures.
Your specific healthcare needs. There's no getting around the fact that our healthcare needs change as we age. An otherwise healthy senior may not feel the need to seek out a senior living community with robust healthcare options, especially if they're satisfied with the medical care they're already receiving. By the same token, seniors who are facing healthcare challenges may find it convenient to move to a senior living community that provides better access to the healthcare options they need. The benefit of a CCRC is that you can be completely healthy right now, and therefore buy in low to a health services plan, so that in the event you do need a higher level of care, it's already covered.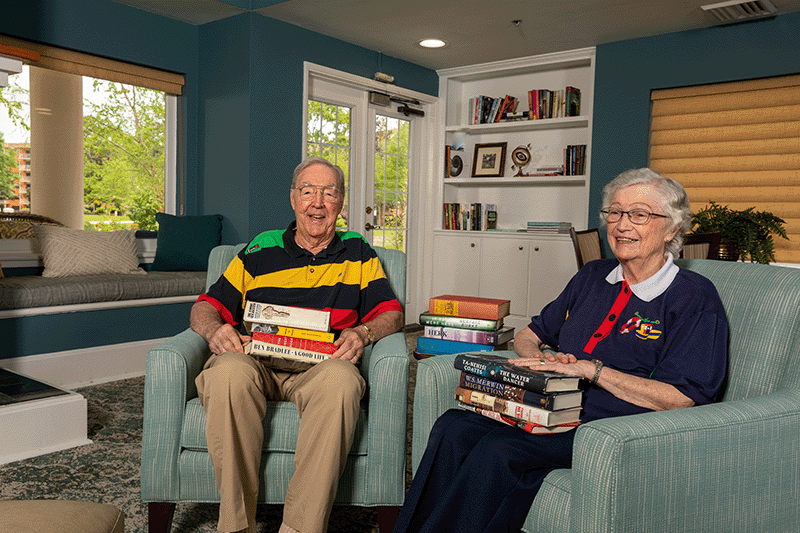 There's Never an Easy Answer
At this point, it should be clear that your decision to move to senior living is dependent on a number of different factors, all of which are likely unique to you. The truth is that there is no "average" age of an independent living resident. Retirees of all ages can be found in the nation's senior living communities, and choosing a specific community is all about finding the right combination of affordable housing costs, access to desired amenities, and the right healthcare options to meet specific needs.
There's nothing wrong with retiring early, late, or any age in between. Instead, focus on what you want to get out of your retirement experience. You may find that the sooner you move, the more you gain and the longer you get to take advantage of the great benefits available. In many cases, a person will keep saying "I'm not ready yet" because they're healthy and active. In fact, this may be one of the perfect times to choose a senior living community, so you can enjoy all the amenities it has to offer.
Whatever and whenever you do choose, rest assured that there are many wonderful senior living communities throughout the country that are ready to welcome you home.
If you'd like to explore some of the best, view any of the 27 campuses of Acts Retirement-Life Communities.