One-Bedroom Senior Apartments - Why Choose a 1-Bedroom?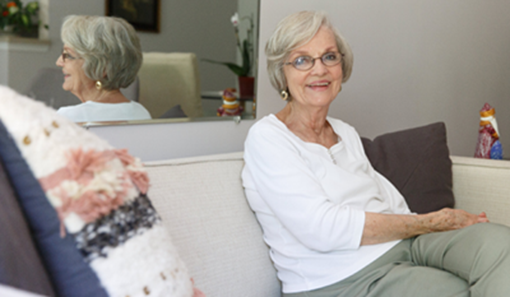 At one time, one-bedroom apartments were seen as entry-level living accommodations. These apartments were suited for bachelors, or maybe newly-married couples who had just started their lives together. Nothing special, just the basics, and often abandoned for larger places to live in the future. 
Well, that might have been the fact years ago, but today one-bedroom apartments have seen new popularity and gained new life. Today, one-bedroom apartments are one of the most sought-after types of living accommodations for seniors. In fact, the popularity of one-bedroom senior apartments has grown so large that many luxury retirement communities offer their own amenity-filled interpretation of the one-bedroom option. Let's discuss in more detail.  
Who Lives in
One Bedroom Senior Apartments
?
There are so many different types of seniors for whom one-bedroom apartment living is perfect. First and foremost, single people such as widows and widowers truly love that they can find a place to live that's perfectly sized for their life. When they pair a one-bedroom with a quality retirement community, they know they are getting the right sized space while also gaining an engaged social life filled with a full schedule of activities and opportunities.   
Another popular audience for one-bedroom apartments are older adults tired of maintaining a large property, interested in much less space to take care. Again, when paired with the right active community, these residents get to feel like they live on a cruise ship minus the ocean, especially if they choose to engage housecleaning services.  
Another audience are those simply looking to save some money by paying only for the space they'll actually need. Not only do they want to sell their family home for a nice profit, but they know with the typically lower rent of a one-bedroom over a larger apartment or even a townhome or cottage, they have more money to spend on travel, hobbies, spoiling their grandkids, and more. Particularly when combined with a continuing care retirement community such as Acts Retirement-Life Communities, where an entrance fee and monthly fee pre-pays for increased health needs such as assisted living or skilled nursing care, these savvy buyers realize they are getting the same great amenities and healthcare peace of mind as their neighbors, but for less money. 
And finally, one-bedroom apartment living is ideal for older adults who are less mobile and prefer a more cozy, manageable settings.  
Do Independent Living Retirement Communities Have One
-
Bedroom Options?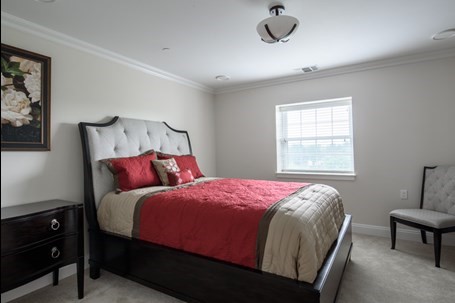 Independent living retirement communities come in all shapes and sizes. Many specialize in detached cottages or semi-detached townhouses, while others offer smaller, more modest apartment homes. It's common to have a modern retirement community offer a mix of accommodations, and this often includes one-bedroom options. 
And when we say "options," we often mean a multitude of choices. It's quite common for retirement communities to have several different sizes and configurations of one-bedroom apartment homes from which to choose. The best part? You'll get access to all the same amazing benefits and amenities of living in that retirement community at a lower cost than someone who moves into a larger home in the community! 
What are the Advantages of a
One
-
Bedroom Senior Apartment
?
Looking for even more reasons why living in a senior one-bedroom apartment is advantageous? Here's a complete list. 
More affordable:

a senior one-bedroom apartment can easily be financed through the sale of your existing house and leave plenty left over to pad your retirement savings

.

 

Perfect size for one person:

no wasted space here! Just what you need, where you need it.

 

Little to no maintenance required:

your retirement community takes care of things like lawn care, trash removal, and even repairing any broken appliances.

 

Access to dozens of amenities:

the typical retirement community has incredible amenities available to members, such as clubhouses, exercise rooms, swimming pools, and more

, regardless of apartment size

.

 

Designed for older adults' needs:

safer and more accessible, with no stairs to trip on, one-bedroom apartments are great for anyone with specific mobility needs.

 

More opportunities to socialize with neighbors:

living right next to other

older adults

offers great opportunities to make new friends and enjoy retirement together!

 
One
-
Bedroom Senior Apartment
Costs

Seniors need to manage their living costs carefully. Being on a fixed retirement income means wanting to stretch that income as far as possible! This is yet another reason why one-bedroom senior apartments are so popular among retirees – the costs of living in a one-bedroom apartment, when compared to an existing home or even a larger apartment or cottage, is going to be much less demanding on your budget. 
That being said, there's a lot of different factors that go into the overall cost of accommodations. These factors can change depending on what state you're looking to live in and which region of that state your retirement community of choice resides in. For more accurate guidance, choose a state near you from the list at the bottom of this page and download a free information kit to learn more about specific cost information! 
Find a
One
-
Bedroom Senior Apartment
Near You
Are you tired of rambling around that big old house of yours alone? Tired of paying through the nose to maintain a large home filled with rooms you're mostly not using? Sounds like it's time to look into a one-bedroom senior apartment near you! Don't worry – we've got the answers you're looking for. Click below to pick the state you're interested in to learn more about one-bedroom options near you!