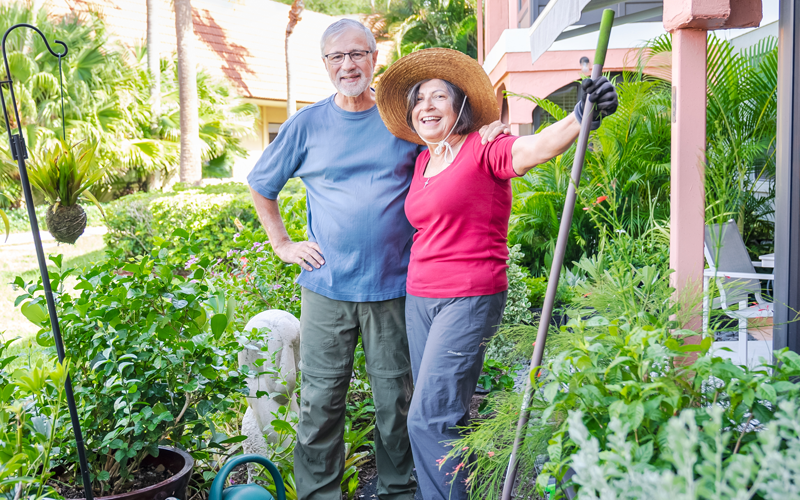 For Nancy Schatz, the best part of living at St. Andrews Estates in Boca Raton, is having the time to choose how she spends her days, instead of worrying about the future.
"For me, I love having the freedom to choose what I want to do, and I truly enjoy my garden," she said.
Nancy and her husband Ed are involved in dozens of activities at this vibrant, senior living campus, where they live independently, with access to a plethora of amenities, restaurants, and social events. The retirement community, conveniently located next to the Town Center mall, also offers assisted living, skilled nursing, rehabilitation, and other health services, should the need arise.
"Living at St. Andrews Estates has eliminated a lot of stress that comes with home ownership. I have no worries," Nancy said, "When we travel, our home is secure, watched and cared for while we are gone."
Nancy and Ed Schatz enjoy the walking trails and several lakes on this expansive campus. "The grounds are beautiful, and I have more time and motivation to exercise; there are so many opportunities," she said.
Nancy participated on the walking relay team and jigsaw competition in Pensacola for OlympiActs, the Acts community's annual senior games, where residents from five Acts communities in the Southeast region enjoy competition and camaraderie. She also loves Tai Chi and water aerobics classes at the Boca Raton community.
"We are as active, if not more so, living here than we were in our home," Nancy said.
"For me, being here has really stepped up my fitness. I've even started strength training classes," she added.
Nancy also volunteers on multiple resident committees and her husband participates in the IBM club.
"We are also excited to be involved in a new wellness program," she shared. "St. Andrews Estates fitted us with Apple watches, and it's exciting to be part of a pilot program for health. We're always getting new opportunities to improve our lifestyle. It's wonderful."