Get ready for new smiling young faces in nearly all of Acts Retirement-Life Communities. 
This summer, Acts welcomes 18 college interns to its corporate and community locations across six states. The interns will work with staff mentors in areas of technology, finance, sales, marketing, culinary, and resident services.
"This opportunity is just what I was looking for," said Sarika Blackman, a sales and marketing intern who will be working at The Evergreens in Moorestown, N.J.
Blackman, who will be a sophomore at Rowan College at Burlington County next year, found out about Acts through a college internship fair.
"There is only so much you can learn from a book," said Blackman. "This experience will be more hands-on. I'll get a better feel for what the industry is really like and look forward to developing my interpersonal and business skills."
College students who desire to work in senior living will get the opportunity to build personal relationships with older generations. Through Acts internships, college students feel better equipped with on-the-job skills and teachable moments outside the classroom setting.
"I'm really enjoying my internship," said Courtney Karram, a senior at Florida Atlantic University in Boca Raton, FL, interns in the fitness center at Edgewater at Boca Pointe. She hopes to become a fitness trainer specializing in older adults.
"I feel meant to work in a retirement community. Acts residents tell the best stories. I really enjoy speaking to them each day and learning about their lives," Karram said.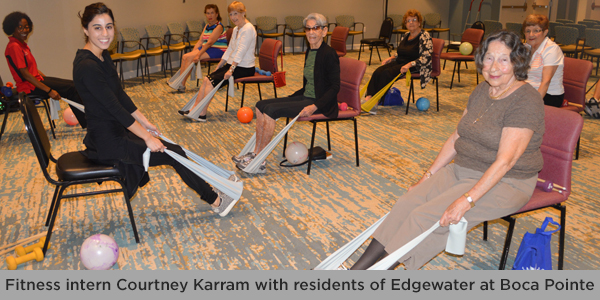 "Our internship program provides college students an opportunity to not just develop the skills and concepts learned through their college course work, but also provides them an opportunity to explore career options in long term care," said Jo Anne Hartman, Managing Director of Acts Corporate University.
Hartman added, "Internships also benefit our employees, by allowing our employees to engage as mentors and share our organizations' culture."
It's a culture that resonated with intern Kasey Lynn Hatter, a senior studying education at Bloomsburg University in Pennsylvania.
"I really like the culture of Acts with its emphasis on loving-kindness and how it treats employees and residents," said Hatter, who will intern at Acts Corporate University. "We're not going to be interns who simply run around and doing things. They [the staff] is more here to help us and we help them in return."